Tired of scrolling and searching all the different options of fishing rods?
Well, you don't need to go any further in your search.
I've made it easy for you to pick. 
I've been surf fishing for about 20 years now, and have tried a bunch of different surf rods. And I try to get my hands on each product I review.
The Ugly Stik Bigwater is a top rod for beginners, or those on a budget – and can be used for multiple applications like surf fishing, freshwater carp fishing, catfish angling and more.
You'll get maximum value for your money with the Ugly Stik Bigwater rod.
So if you're looking to make an easy decision and be happy with your choice, you'll avoid regretting spending any more than you need to catch some awesome fish with the Bigwater.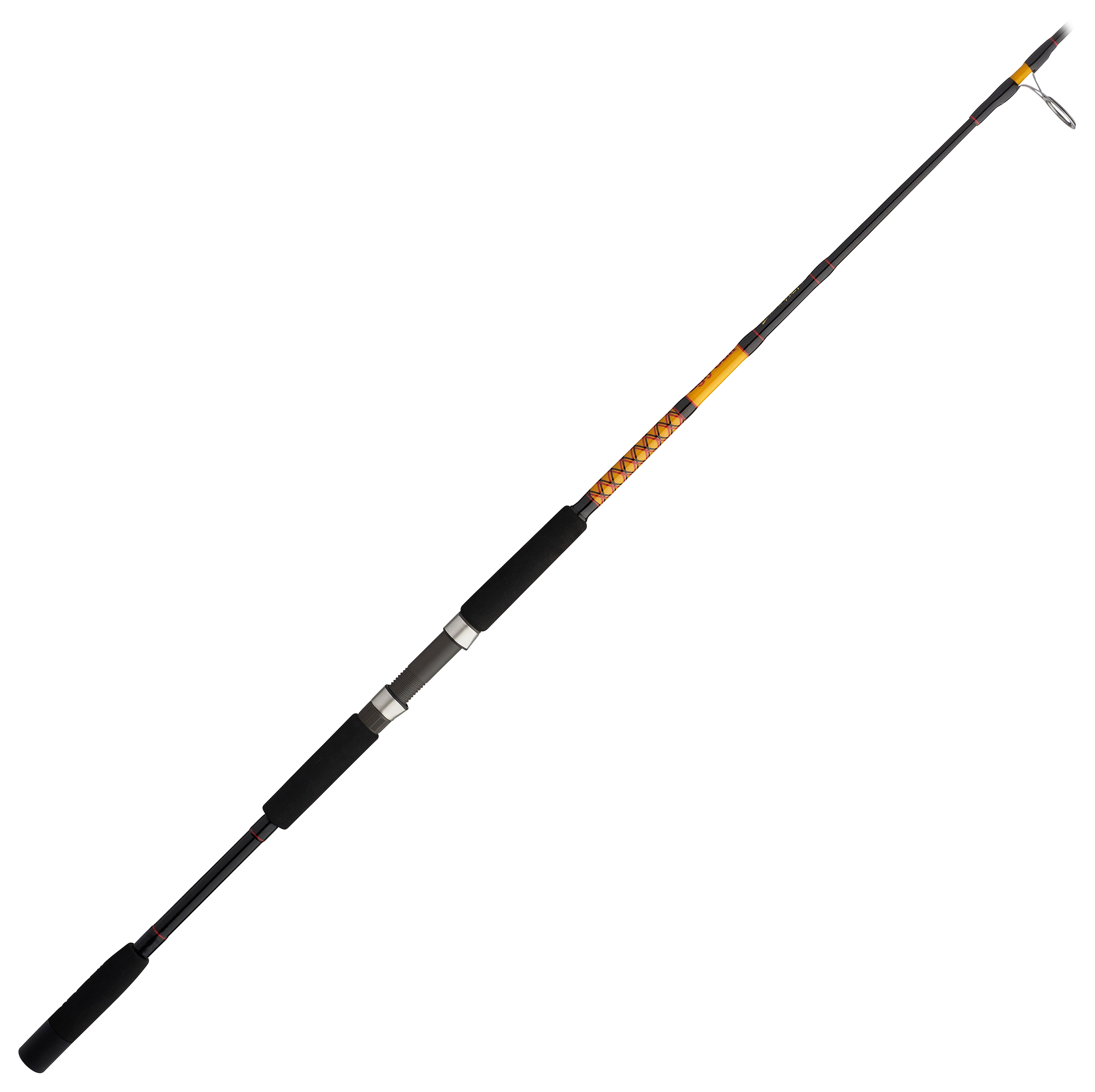 ---
If you need some more info related to the Bigwater and surf fishing, keep reading.  
Who should invest in the Ugly Stik Bigwater Surf rod?
The Ugly Stik Bigwater surf rod is your ideal beach companion if you're seeking a budget-friendly option for surf fishing. 
When you're starting out surf fishing you don't want to go out and hurl a load of money at the best most expensive gear, it's just not necessary. 
That's why I like the Ugly Stik Bigwater as a go-to surf rod option. This is a robust and chunky rod designed for tackling the challenges of surf fishing, that is great for starting out with. 
Ugly Stik's renowned strength is well reflected in the Bigwater's construction. 
Despite not being a top-tier surf casting rod, its price range is hard to argue with when you're on a budget.
The Ugly Stik Bigwater Rod is constructed to endure the rigors of rough handling, making it a resilient choice even for harsh surf fishing conditions. 
While the rod blank is known for its durability, keep an eye on the components that might experience wear and tear after enduring relentless battles with formidable fish or the harsh surf environment.
If you're a casual angler seeking a reliable surf fishing rod for occasional weekend adventures, the Ugly Stik Bigwater is a dependable option that embodies the brand's strength. 
While it may not deliver top-tier performance, it's a solid choice for recreational fishing. 
For a more serious approach, consider upgrading to the Ocean Master or Team Daiwa surf rod models.
Ugly Stik Bigwater rod Specs
Lengths available: 6-15ft
Pieces: 1-2 pieces dependent on model
Power range: Medium to Heavy
Action range: Fast
Guides: Stainless steel one-piece
Reel seat: Fuji reel seat
Blank material: Composite: Graphite / Glass
Check out our 'best of' list for surf rods. The Bigwater is on the list as the best budget surf rod.
Ugly Stik Bigwater Surf Rod Pros
Powerfully Agile: 
Perfectly suited for taking on substantial fish, the Ugly Stik Bigwater offers impressive flexibility, allowing you to bring in those sizable catches with precision and confidence.
Comfortable handling: 
The chunky foam handles not only provide a comfortable grip but also ensure an unyielding hold when your hands are wet from casting or reeling. 
This guarantees you maintain control over your rod and the battle with your catch, eliminating the risk of losing your hard-earned prize.
Built to Conquer: 
The solid rod blank of the Ugly Stik Bigwater is designed for longevity and reliability. 
Crafted to endure even the harshest conditions, it stands strong against challenging elements.  
The toughness gives you the assurance of a rod that won't succumb to breakage or premature wear, no matter the circumstances.
Support that Matters:
Backed by an excellent warranty, the Ugly Stik Bigwater provides a safety net of customer support. 
This generous coverage not only safeguards your investment but also guarantees peace of mind.
Particularly when it comes to components that might face the brunt of intense fishing conditions.
Ugly Stik Bigwater Surf Rod Cons
Guide Challenges: 
You might come across a situation where the tip guides experience wear due to grooves caused by braid friction, particularly during encounters with substantial fish. 
This wear and tear risk might extend to potential damage to the stainless steel guide but also risk break-offs from torn braid.
Reel Seat Quirks: 
Some anglers have shared their experiences of the reel seats occasionally coming loose on the Bigwater rod, or feeling slightly less secure than desired. 
If you're only taking the Bigwater to the beach every no and then, I would be checking the reel seat each tie to make sure no movement or slippage has occurred.
Ugly Stik Bigwater Surf Rod Performance
The Ugly Stik Bigwater surf rod offers a solid performance for surf fishing, excelling in its power and agility. 
Designed with a combination of fiberglass and graphite, it provides the flexibility needed to effectively battle and land sizable fish, instilling a sense of control and precision throughout the fight. 
The chunky foam handles enhance your grip even when wet, minimizing the risk of losing your catch during casting or retrieval. 
Despite some of the minor drawbacks, the Ugly Stik Bigwater proves to be a dependable option for surf fishing.
Particularly for those seeking a budget-friendly choice without compromising on strength and resilience.
Ugly Stik Bigwater Surf Rod Construction
The construction of the Ugly Stik Bigwater surf rod is a blend of fiberglass and graphite, resulting in a robust and reliable fishing tool with decent flex in it to help with fighting fish into the shore.
This combination offers a balanced fusion of strength, flexibility, and sensitivity, equipping you to tackle the challenges posed by surf fishing. 
The 24-tonne low resin carbon blank material serves as the backbone of the rod, promising durability and resilience against demanding conditions. 
The rod's design caters to a medium-light to medium-heavy power range, allowing you to confidently engage in battles with formidable fish. 
Complementing this construction are the stainless steel SeaGuides with zirconium inserts, ensuring smooth line flow and efficient casting. 
These components collectively create a surf rod that embodies Ugly Stik's reputation for durability and performance.
Ugly Stik Bigwater Surf Rod Summary
The Ugly Stik Bigwater is a cheap and more than cheerful budget surf rod. 
It's not going to burn a hole in your pocket, and it'll deliver what you need on the beach. 
Known for it's strength and durability its a great choice as a first rod, a present or a cheap back-up that can withstand a bit of a bashing. 
I hope you've enjoyed this Ugly Stik Bigwater Review and it helps you decide whether this rod is right for you to buy. 
Tight lines!