Traveling with fishing gear can be a pain in the behind. 
And finding a surf rod that actually performs well despite being a 4-piece model can be challenging. 
Well in this review of the St Croix Triumph Travel surf rod, we feel like we've found the match for you. 
The Triumph Travel Surf rod found its way onto our article of the best surf rods out there and took the spot as the best travel surf rod that's widely available now. 
---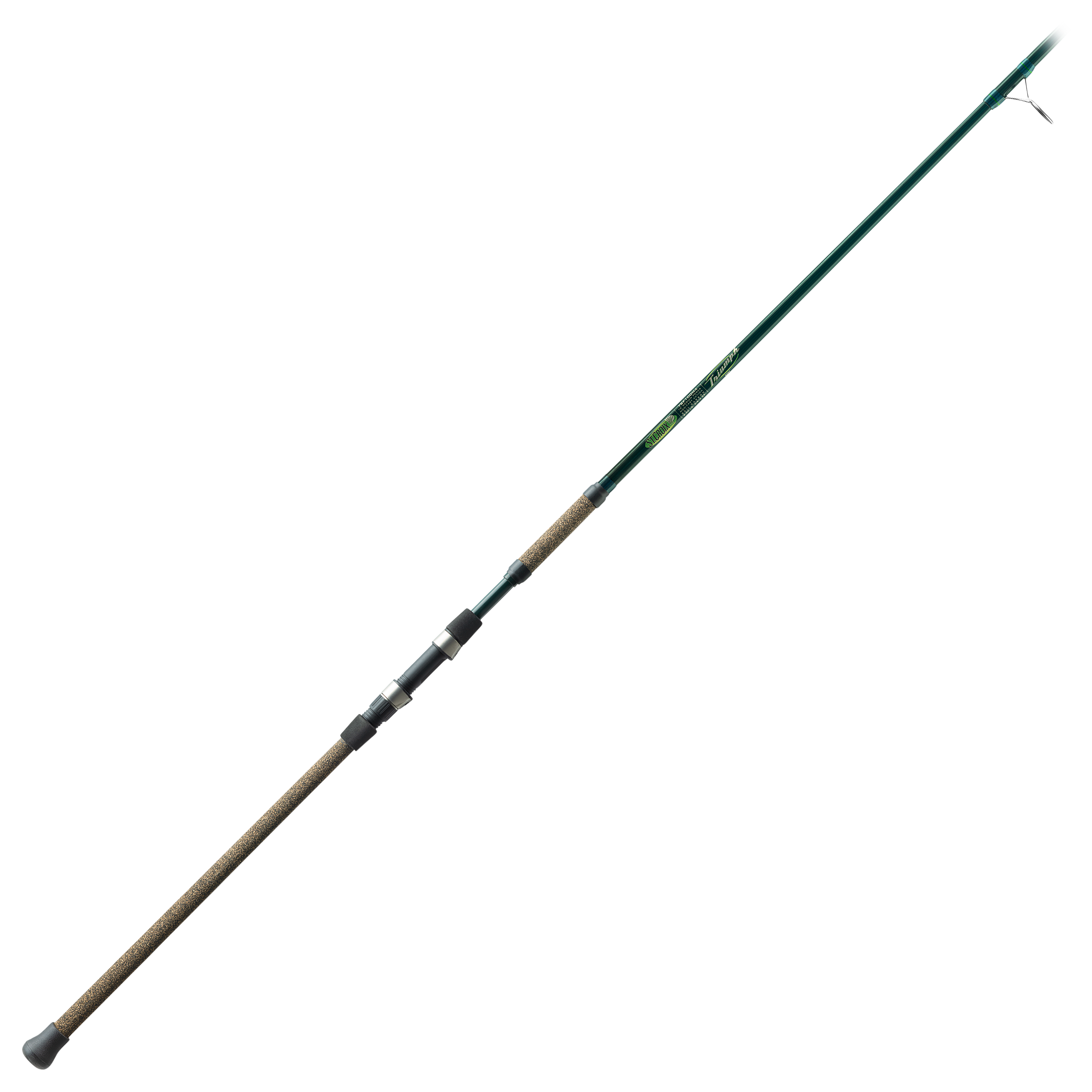 ---
I've tested and used many different surf rods over the years and often travel to go fishing and explore different shorelines. 
I'm always thinking about balancing portability vs performance and typically opt for a 2-piece rod when traveling
But a 2-piece is still cumbersome, and I'm always looking for more convenient, neater ways to travel with fishing gear. 
The St Croix Triumph Travel Surf Rod might just be that solution if you're looking for portability and convenience without totally sacrificing performance on the beach.
Let's have a look at what makes this rod so great…
Who should invest in the St Croix Triumph Travel Surf rod?
When it comes to travel surf rods, it's easy to fall into the trap of subpar options that sacrifice quality for convenience. 
As I'm sure you know, when you start breaking a rod into more and more pieces it affects the performance of the rod.
St Croix's Triumph Travel Surf Rod, however, rises above the rest. 
Unlike those flimsy alternatives you see flooding online marketplaces, the Triumph is a true performer that you can rely on.
St Croix has tackled the challenge of creating a travel-friendly surf rod that doesn't compromise on performance. 
The brand has really thought about durability too, it boasts Sea Guide Atlas Performance rod guides and reel seat, ensuring both toughness and smooth, accurate casting. 
This is essential for surf casting where hitting the right distance and accuracy is the difference between you catching fish or not.
Beyond performance, I have to call out the Triumph's portability. 
It's a 4-piece design that's packed in a really nice heavy-duty fabric travel case, you can just easily chuck it in the bag and transport it without the hassle of airport restrictions.
In the realm of travel surf rods, I find the St Croix Triumph Travel Surf Rod an impressive contender.
Your investment will pay off its dues in lasting performance and memorable fishing experiences. 
Don't waste your time on inferior options; choose St Croix and fish confidently knowing you've got the best by your side.
St Croix Triumph Travel rod Specs
---
Lengths available: 9ft & 10ft
Pieces: 4-pieces
Power range: Medium
Action range: Moderate fast
Guides: Aluminum oxide surf guides
Reel seat: Fuji DPS reel seat
Blank material: SC2 Graphite
---
Check out our list of the best surf rods, where the Triumph Travel Surf Rod snagged the best travel surf rod.
St Croix Triumph Travel Surf Rod Pros
Durability: 
The St Croix Triumph Travel Surf Rod boasts outstanding durability, a trait greatly enhanced by its Sea Guide Atlas Performance Guides and Reel seat. 
These components are designed to withstand the rigors of surf fishing, ensuring your rod remains robust even in challenging saltwater conditions. 
With proper care, and I urge you to rinse after each use in saltwater, this travel rod's unwavering performance endures. 
This means you can take the best tool with you to go and chase fish in exotic locations, bringing a rod you're familiar with and that you trust in a battle.
Light and Strong: 
Lightweight and robust SC2 Carbon is at the heart of the St Croix Triumph Travel Surf Rod's strength and abilities.
And you absolutely want lightness – not just for fishing but for transporting too. 
Beyond offering impressive strength, this construction also heightens the sensitivity and power you experience through the rod. 
This delicate balance makes it easier to detect those subtle bites, providing you with the precision needed to reel in trophy-worthy fish from across the globe. 
Comfortable Usability: 
The rod has a stylish, classic-looking custom cork tape grip, too which I like. 
It's pretty darn comfortable and gives you a good secure grip during extended fishing sessions… plus you look pretty stylish too!
It definitely looks the part compared to those plasticky, cheap alternatives you get online.
Highly Transportable: 
The 4-piece design and heavy-duty fabric case of the St Croix Triumph Travel Surf Rod means this rod is super convenient and easy to transport. 
Often I've traveled abroad and not been able to take my preferred gear with me.
The Triumph Travel surf rod gives you the freedom to explore epic fishing destinations around the world, without having to haul around a bunch of oversized gear. 
Whether you're jetting off to remote coastal locations or exploring new surf fishing hotspots, this travel rod ensures you're equipped to pursue monster fish and create unforgettable memories.
Great Customer Support:
St Croix also provides great customer support and returns and repair services for faults with the rod. 
This gives you a bit of a safety net, knowing that if something were to happen while you're traveling, you're covered by their customer care. 
St Croix Triumph Travel Surf Rod Cons
Being a 4-piece travel rod, you might notice a minor decrease in overall quality and stability in comparison to a one- or two-piece rod. 
Dividing a rod into multiple sections interferes with its inherent parabolic bend, which in turn can impact the rod's overall integrity and casting performance. 
However, it's important to recognize that this is the trade-off you make.
It's pretty hard to design a high-performing surf rod and also make it as portable as a 4-piece rod, such as the Triumph.
As mentioned earlier, few manufacturers excel in producing both standard and travel rods as effectively as St Croix does, and it's worth acknowledging that the rod comes with a substantial warranty, offering a layer of protection and reassurance.
St Croix Triumph Travel Surf Rod Performance
I, as many other anglers out there have been, am impressed with the performance of the St Croix Triumph Travel Surf Rod.
You've got a great performer that is also set to last given its durability as a surf rod.
Its durability is underscored by the Sea Guide Atlas Performance Guides and Reel seat, designed to withstand the challenges of saltwater conditions.
Through proper care and maintenance, this rod's consistent performance endures, enabling you to tackle fish in exotic locales with confidence.
The Triumph offers both sensitivity and power, making it an adept tool for detecting even subtle bites and landing impressive catches.
The custom cork tape grip ensures comfortable, secure handling during extended fishing sessions, while the 4-piece design and heavy-duty fabric case provide exceptional portability.
As you venture to various coastal destinations, you'll be able to chuck some plugs and baits out in spots you think look fishy to try and trigger bites from some new killer species!
St Croix Triumph Travel Surf Rod Construction
Crafted from SC2 Carbon, a blend of lightweight strength and sensitivity, the rod offers a balance that enhances your ability to detect even the most delicate of bites. 
This material's high modulus carbon ensures durability without compromising performance, allowing you to confidently face various fishing conditions.
I appreciate that St Croix has included Sea Guide Atlas Performance Guides and Reel seat, which will help avoid wear and tear from saltwater conditions and any line wear too.
The stainless steel SeaGuides with zirconium inserts enhance the rod's robustness and casting precision, while the reel seat offers a secure attachment for your reel so you don't experience any slippage or movement when battling new species in new places.
With the St Croix Triumph Travel Surf Rod's carefully designed construction, you can trust that your rod will hold up in the traveling itself.
But also that it'll perform really tightly when you're casting it in the surf and hauling in prize catches.
St Croix Triumph Travel Surf Rod Summary
So in this St Croix Triumph Travel Surf Rod review, we've gone through why we think this is a gem of a travel rod. 
With SC2 Carbon build, Sea Guide Atlas Performance Guides, and a custom cork tape grip, it delivers sensitivity and durability. 
Whether chasing trophies or exploring new waters, this rod's quality and convenience make it a top pick for anglers on the move.