I'm looking for a new surf rod.
As are you, I'm assuming, from clicking on this article?
Well, I've spent flippin' hours trying to sift through the crap and find the golden nuggets in amongst the hundreds of duffs when it comes to surf rods.
I've scoured the experiences of seasoned and professional surf anglers who have used this rod, as well as applied my own hands-on experience with surf rods over the past 20 years.
In this brief but to-the-point Team Daiwa surf rod review, I'll delve into why this rod earned its place at the top of our best surf fishing rods list.
And how it will maximize your surf fishing game. 
By the time you finish reading, I'm confident you'll know what to do if you want to up your game in surf fishing, just like I do.
Let's dive in.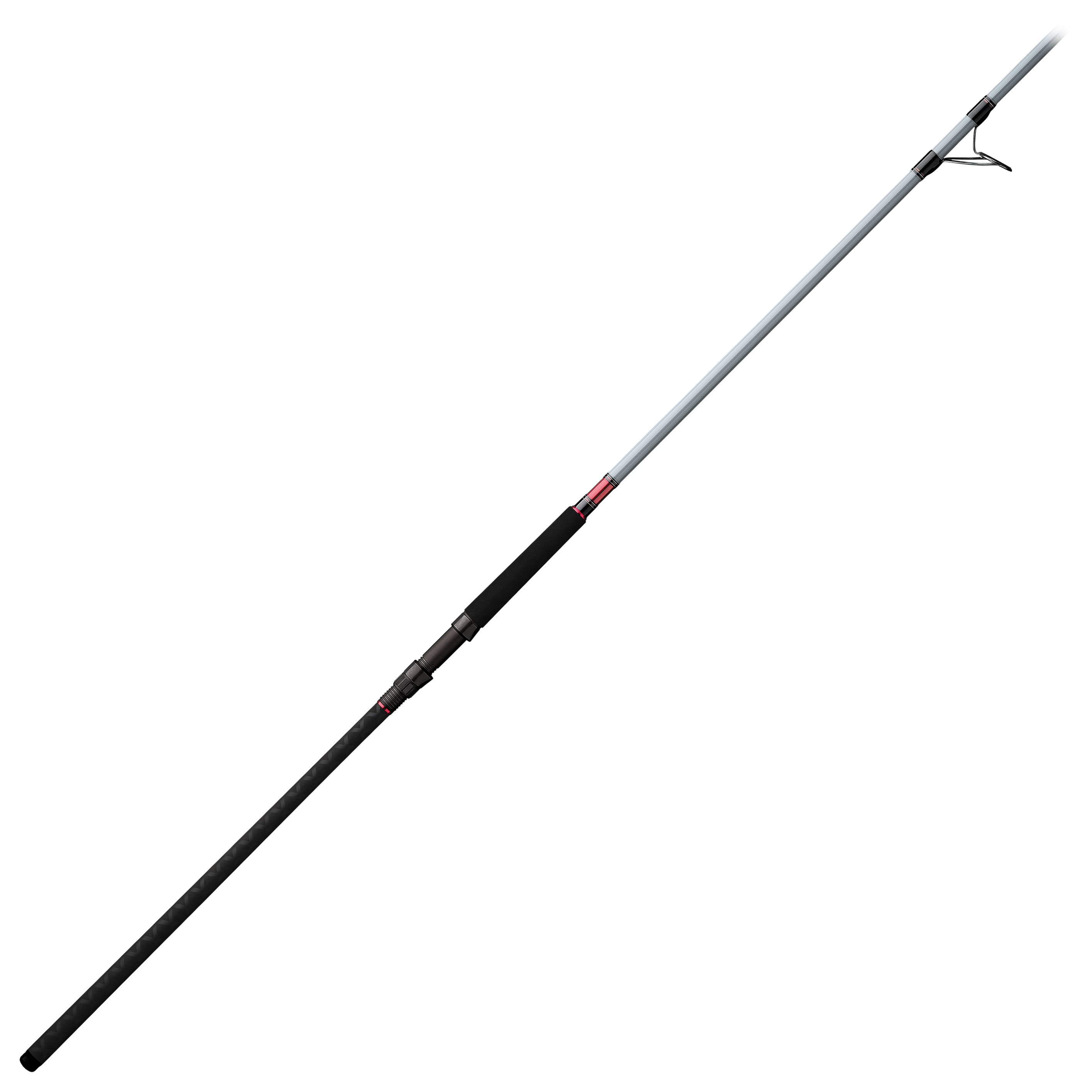 Who should invest in the Team Daiwa surf rod?
I reckon if you're really getting into the sport of surf fishing and you're on the hunt for a value-packed, high-performing fishing rod the Team Daiwa Surf Rod is a must-consider. 
I appreciate the rod's versatility, with a lightweight design and impressive casting power. 
It can reliably be put to use for bait, plugging, skishing, and more – capable of enduring harsh conditions that could spell trouble for other rods.
I know it's priced just slightly higher than alternatives out there like the Offshore Angler Ocean Master, but the Team Daiwa boasts superior build quality and components. 
This means you'll enjoy years of fishing without the hassle of replacements, saving you both time and money. 
Plus, its impressive strength-to-weight ratio ensures you won't tire easily during long casting sessions, helping you conserve energy for reeling in those big catches.
With lengths ranging from 7ft to 12ft and a power range from medium-light to medium-heavy, this rod offers options for a broad range of anglers 
I like fast-action surf rods and the Team Daiwa's fast-action design enhances your casting power with minimal effort, making it ideal for lures and hook sets. 
Fuji Fazlite Rings both manage your line and help boost your casting, especially on braid. And a Fuji reel seat secures your reel for battles with powerful fish.
Whether you're a seasoned pro or a beginner seeking a versatile surf spinning rod, this investment is bound to pay off.
Team Daiwa Surf Rod Specs
Lengths available: 7ft-12ft
Pieces: 1-piece on the 7ft-8ft, and two pieces on the 9ft+
Power range: Medium-light to Medium-Heavy
Action range: All Fast action
Guides: Fuji K-Series, with Fazlite material
Reel seat: Fuji Custom matt black
Blank material: Graphite
Check out our list of the best surf rods out there today. The Team Daiwa Surf Rod took top spot overall!
---
Team Daiwa Surf Rod Pros
HVF Nanoplus Technology: Enhanced sensitivity and reduced weight result in effortless detection of even the slightest nibbles during long fishing sessions. Improved casting distance and accuracy place you in prime fishing locations with every cast.
X45 Carbon Weave: Innovative X45 carbon weave design creates a lighter rod than competitors, allowing tireless casting for extended periods. More time on the water translates to increased chances of landing fish.
Fuji Fazlite Rings: Dark blue Fuji Fazelite rings ensure exceptional line management, especially with braided lines. These high-quality rings are cost-effective, enduring braid abuse over time, eliminating the need for frequent guide upgrades and preventing missed catches due to break-offs.
Fast Action Rods: Designed for fast action, Team Daiwa Surf Rods offer powerful casts with minimal effort, aiding faster hook sets – a crucial advantage for lures and hooking fish swiftly.
Fuji Reel Seat: Sturdy Fuji reel seat guarantees a secure connection between rod and reel, granting precise control during battles with strong fish. No worries of reel slippage or erratic movement, common in cheaper surf rods.
Portable: Longer two-piece rods conveniently break down for easy car transport, perfect for surf fishing in confined spaces like jetties, ensuring hassle-free setup.
Aesthetics: The grey finish complements the dark blue hue of the guides, enhancing visual appeal on the Team Daiwa rod.
Comfortable Butt Handle: Padded criss-cross pattern provides a comfortable grip akin to a samurai's katana handle. Secure grip boosts confidence when casting lures, plugs, or handling big baits, preventing accidental slips.
Team Daiwa Surf Rod Cons
Price Point: While the Team Daiwa Surf Rod may not fall within the budget-friendly category, for the money, it's a pretty good deal.
Opt for cheaper rod and, you might cycle through two or three lower-cost alternatives plagued by guide breakdowns or snapping issues.
Making the Team Daiwa's durability and value a no brainer.
Team Daiwa Surf Rod Performance
This rod isn't just about power and action – for how much it costs, it's a bit of a game-changer. 
With its adaptable power range and fast action design, your casts will be smoother than ever, and those hook sets will be lightning quick, especially if you're a fan of lures. 
The Team Daiwa is built to against corrosion and durability challenges. Unlike cheaper rods that suffer from guide issues, this one stands strong against the elements.
The magic comes from a combination of HVF Nanoplus Technology and X45 Carbon Weave. 
These features provide a unique blend of sensitivity and durability. 
You'll feel even the slightest of nibbles, and can cast all day without feeling like you've run a marathon. The Fuji Fazlite Rings add a layer of precision to line management.
Team Daiwa Surf Rod Construction
The Team Daiwa Surf Rod's construction is a testament to precision and performance, following the brands heritage as a top fishing tackle manufacturing brand. 
Crafted with a keen eye on durability and responsiveness, it features top-tier materials that set it apart from the rest.
The rod's graphite blank offers the ideal balance of lightweight design and robustness, ensuring it stands up to the demands of rigorous surf fishing. 
This construction not only minimizes fatigue during long casting sessions but also enhances the rod's sensitivity, allowing you to detect even the subtlest of strikes. 
The incorporation of HVF Nanoplus Technology and X45 Carbon Weave further elevates the rod's capabilities, translating into heightened casting distance and accuracy. 
With these materials at its core, the Team Daiwa Surf Rod redefines what's achievable in the world of surf fishing equipment.
Summary
So I hope this review of the Team Daiwa Surf Rod has been useful to you.
In short, the Team Daiwa is an investment that's set to elevate your surf fishing game. 
Get ready for smoother casts, quicker hook sets, and a tighter line that might just lead to the catch of a lifetime.