Looking to elevate your surf fishing game?
You're in the right place!
In this St. Croix Mojo Salt Spinning Rod Review, we dive deep into the ultimate weapon for conquering the waves.
If you're seeking precision, power, and durability in the surf, you won't want to miss this.
We break down the key features, construction, and performance of the St. Croix Mojo Salt Spinning Rod, arming you with the insights you need to make an informed decision.
Let's dive in and discover how the St. Croix Mojo Salt Spinning Rod can revolutionize your surf fishing experience.
Check out our list of the top-performing best surf rods out there now.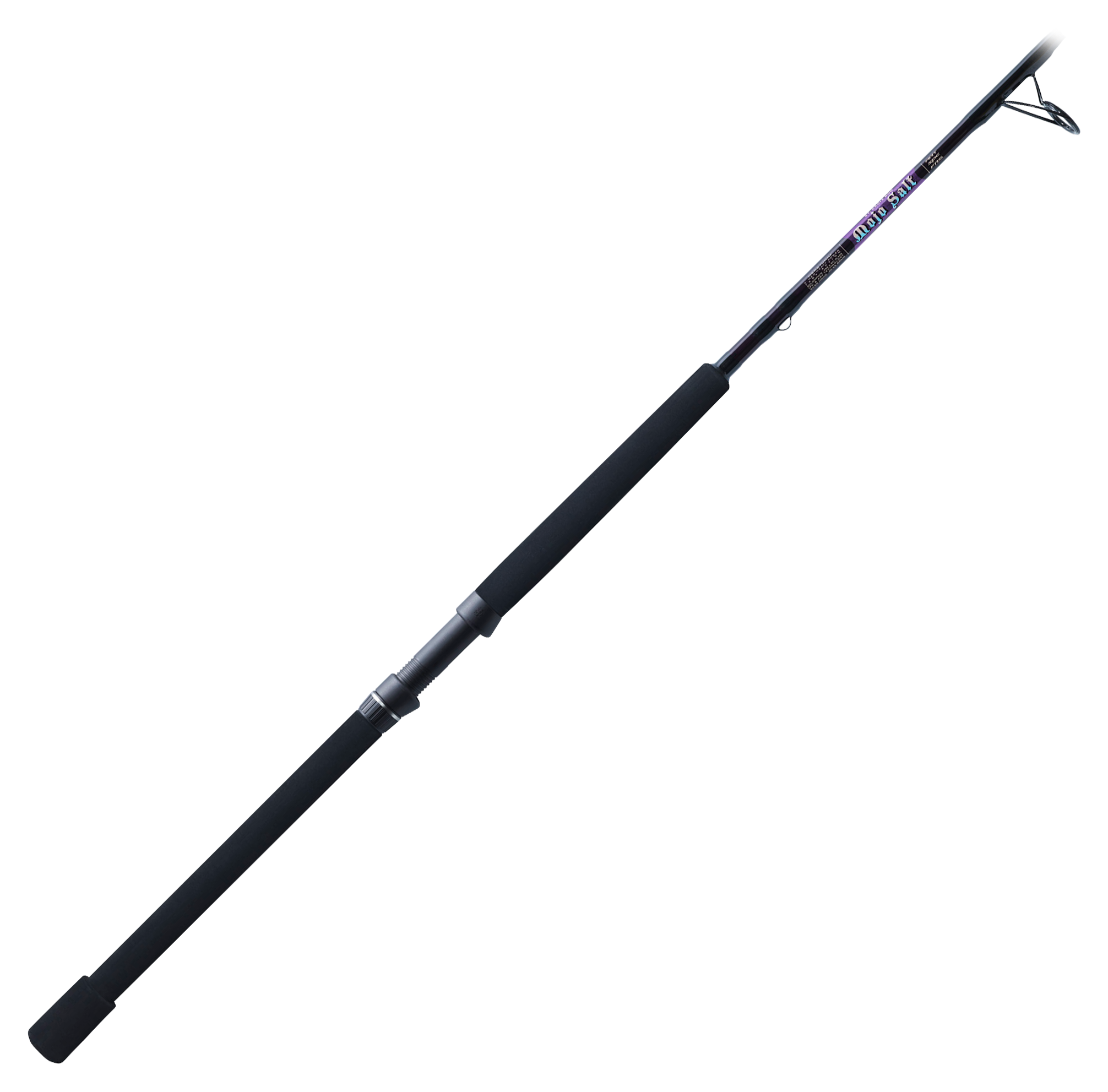 Who should invest in the St Croix Mojo Salt Spinning Surf rod?
With over 70 years of experience and a strong reputation, St. Croix brings unmatched reliability to the world of surf rods that you can depend on. 
And that thousands of anglers out there depend on too. 
Designed for versatility, this surf rod caters to a wide range of fishing scenarios so you'll not struggle trying to find a model right for you. 
You'll be able to battle bluefish, stripers, and snook comfortably, even handling larger species like stingrays.
Its offset furl design strategically placed within the blank optimizes fish-fighting power and gives you tons of control during intense battles and casts.
If you can invest a little more in one of the leading surf rod manufacturers that still produce much of their products in the US then the Mojo will see you well.
It's rare you see complaints about these rods from experienced anglers out there, and some use them for years.
St Croix Mojo Salt Spinning Surf rod Specs
Lengths available: 7-12ft
Pieces: 1-piece in the 7-8ft and 2 pieces in the 9-12ft
Power range: Medium-light to Heavy
Action range: Moderate- moderate fast
Guides: Braid-only designed guides, zirconium inserts
Reel seat: Fuji reel seat
Blank material: SC2 Graphite
Don't forget to read our view on some of the best rods for fishing in the surf.
St Croix Mojo Salt Spinning Surf rod Pros
Lightweight Design: The St. Croix Mojo's medium power and moderate action design ensure fatigue-free casting during extended fishing sessions. 
With its ergonomic lightweight build, the Mojo minimizes arm strain while you're plugging away. 
Allowing you to stay engaged for more extended periods and making challenging hook-ups more achievable.
Excellent Casting Performance: Experience the St. Croix Mojo's rod blank with an inherent energetic quality, especially when loaded in a cast under pressure. 
Notably, the heavier models excel at effortlessly launching heavy bait, delivering impressive casting distances. 
This advantage becomes a game-changer for capturing elusive deep-sea inhabitants like sharks and substantial rays.
Durable Construction: Engineered with SC2 carbon, the St. Croix Mojo guarantees exceptional robustness, turning it into a dependable investment that endures for years. 
By eliminating the need for frequent rod replacements or component repairs, the Mojo provides extended reliability, letting you focus more on the thrill of angling.
Comfortable Grip: The Mojo's Xwrap handle, layered with cushioned cork, offers not only a secure grip but also elevated comfort during casting and intense fish fights. 
This feature proves invaluable, especially in challenging conditions where your hands might be subjected to sand and water. 
The Mojo's ergonomic grip ensures your focus stays on reeling in your catch.
All-Round Performance: Emphasizing the Mojo's remarkable versatility, it adapts seamlessly to diverse fishing scenarios. 
Boasting an extensive range of 10 models, this casting rod ensures an ideal match for every angler and situation. 
Its adaptability transforms the Mojo into an indispensable tool capable of handling a multitude of fishing adventures.
St Croix Mojo Salt Spinning Surf rod Cons
Guide Maintenance: It's advisable to pay attention to the ceramic components of the rod guides.
There have been instances where wear and, in some cases, fractures have been observed. 
However, it's worth noting that St. Croix's warranty coverage should provide protection against such issues, offering peace of mind to users.
Potential Rust Accumulation: There have been reported instances of rust collecting beneath the guides, particularly where the guide and ceramic parts come into contact. 
To enhance the rod's overall durability, consider giving it a thorough rinse after intense saltwater use. 
This proactive step helps maintain the rod's condition and ensures optimal performance over time.
St Croix Mojo Salt Spinning Surf rod Performance
As you'd expect from the brand, the St. Croix Mojo Surf Rod demonstrates stellar performance for surf anglers, delivering a seamless blend of power, precision, and resilience. 
Its carefully calibrated power and action options mean you can use different models for a variety of surf fishing techniques, accommodating both newcomers and seasoned anglers. 
The rod's construction from premium materials gives you exceptional sensitivity, dialing in your strike detection. 
And it maintains the robustness needed for challenging battles with surf-dwelling species. 
Whether you are casting baits or lures, the Mojo's ability to load and release its energy improves your casting distance and accuracy.
Which is a crucial asset in the dynamic surf environment. 
With a focus on optimal line management, you'll rarely if ever encounter tangles due to the rod guides.
St Croix Mojo Salt Spinning Surf rod Construction
The St. Croix Mojo Surf Rod is built with precision and performance in mind, utilizing a blend of premium construction materials that put an awesome piece of kit in your hands to use at the beach and land some prize fish. 
Crafted with a high-modulus graphite blank, this rod strikes a balance between sensitivity and strength, allowing you to detect even the faintest of strikes while ensuring durability during rigorous battles. 
The incorporation of Integrated Poly Curve® (IPC®) technology basically makes this rod damn strong by the way the rod is tapered. 
But also doesn't lose the all-important sensitivity to get those hook-ups happening. 
You'll find Fuji® K-Series guides, known for their tangle-free operation and corrosion resistance, which is vital for a surf rod enduring the harsh conditions that you'll likely put it through at the beach.
Overall, the St. Croix Mojo Surf Rod's construction materials embody the St croix's commitment to excellence, giving you a reliable surf fishing tool that excels in performance and longevity.
St Croix Mojo Surf rod Summary
In the world of surf fishing, the St. Croix Mojo Surf Rod stands tall as a reliable companion, seamlessly blending power, precision, and durability. 
Whether you're a seasoned angler or just starting out, this rod's got your back, delivering top-tier performance.