Top pick overall – Team Daiwa Surf Rod
In a hurry? Then simply choose the hugely popular, high-performing and durable Team Daiwa surf rod to help you catch more fish and be the envy of all your surf fishing buddies.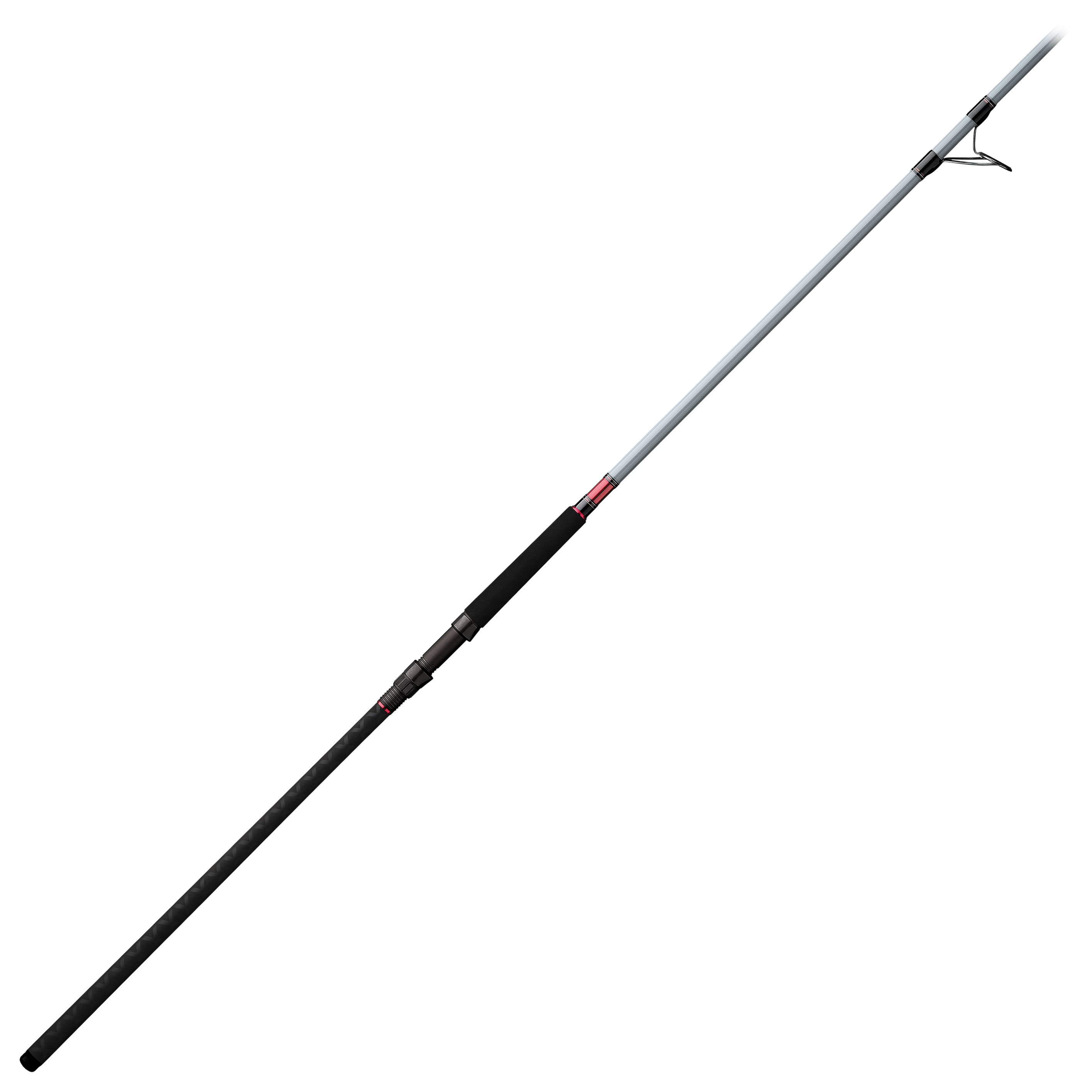 Trying to wade through the hundreds of choices to choose the right surf fishing rod?
Feeling a bit stuck on what to choose?
But don't worry, that's why I wrote this guide on the best surf fishing rods!
Overview of the 11 Best Surf Rods
Why listen to my perspective on the top surf rods?
As I always say, you are free to ignore my recommendations and go with what you think is the best surf fishing rod out there!
But as you've probably noticed from most of the content on this website, surf fishing is a pretty big deal for me.
So, over the years I've taken many surf rods of all different kinds to the beach, so have a pretty good idea about the best rods for surf fishing.
I've used short ones, long ones, fibreglass and graphite/carbon, from light up to heavy power and slow to fast action surf rods, across multiple brands. Distance beach casting rods, shorter casting rods and lots in between…
I've tried to test and handle as many of the rods on this list as possible and include my own photos where I can.
Now I share my experiences and knowledge to help you.
Let's get into it…
11 of the Best Surf Rods you can buy today
Choosing the best surf rod is not an easy task, some would say you can't and I agree.
So I have listed out below the most popular, high performing surf rods for multiple different applications. and budgets.
I thought it important to do this, so it's easy for you to navigate to the type of rod they're searching for.
There are 11 rods to browse, and you can use the table of contents above to hop to the type of surf rod you are looking for.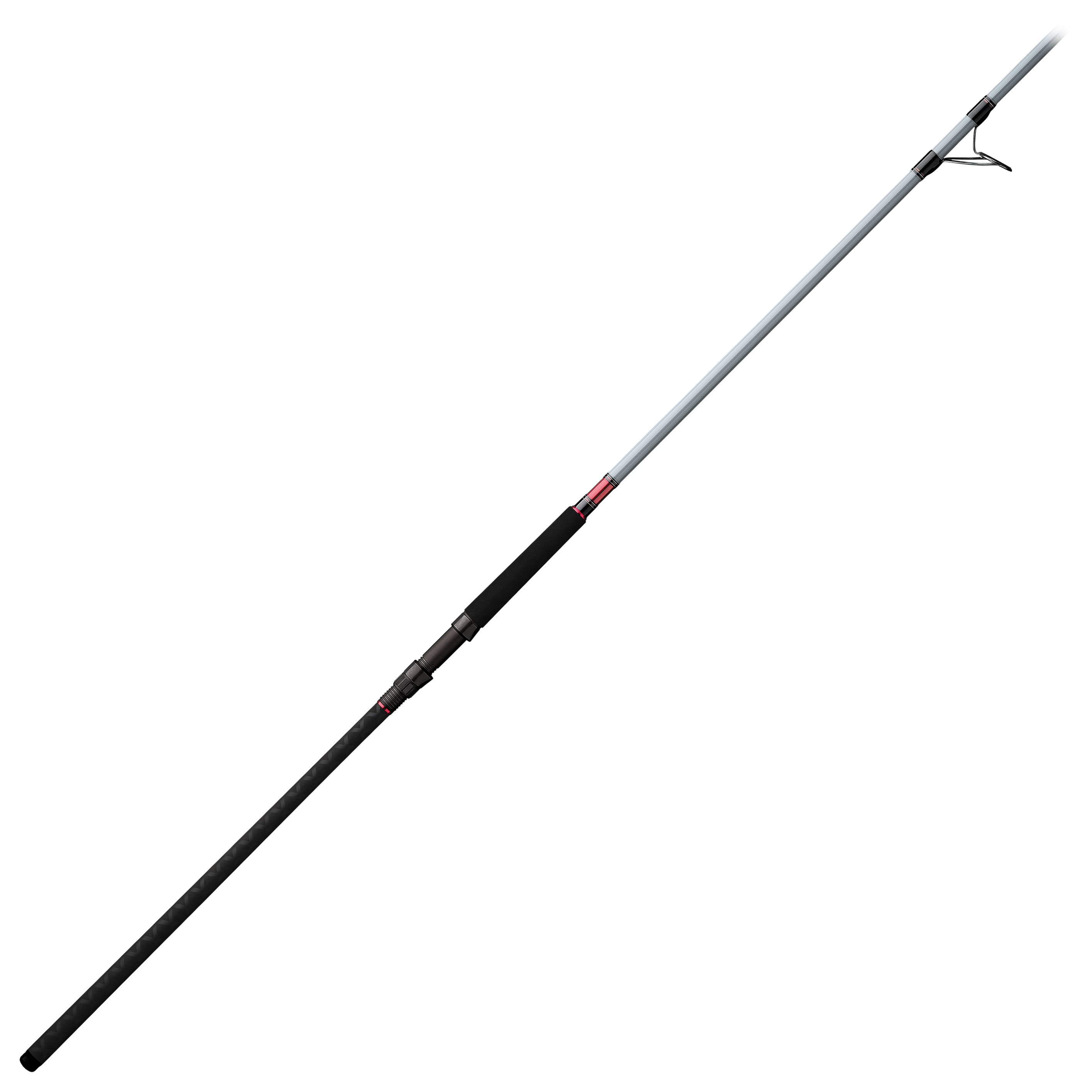 ---
Why the Team Daiwa Surf Rod made the top list
This was a close call for me – I almost put the Offshore Angler Ocean Master here as the best surf rod overall, but decided the Team Daiwa pipped it to the post.
This is an incredibly popular rod with surf anglers and casters, for its lightness and ability to really sling baits and lures out there.
It's also really versatile and I've heard anglers using it for bait and eight, plugging and skishing even. So it can stand up to some pretty harsh beating in conditions that you'd be worried for other rods in.
It's only a little more expensive than the Ocean Master, despite having great build quality and components that will see you fishing this rod for years and not needing to waste time and money on replacement components or blanks.
You get some high-grade components in a rod that is a very acceptable price, and as light yet strong as some other very chunky powerful rods out there.
What I love about this rod is how surprisingly light yet strong it is. So you're not going to get tired on the beach or rocks from casting and retrieving this rod. The worst feeling is feeling fatigued and you hook on a big fish, you want to conserve your strength and stamina and the Team Daiwa Surf rod helps you do just that.
Team Daiwa at a glance
Lengths available: 7ft-12ft
Pieces: 1-piece on the 7ft-8ft, and two pieces on the 9ft+
Power range: Medium-light to Medium-Heavy
Action range: All Fast action
Guides: Fuji K-Series, with Fazlite material
Reel seat: Fuji Custom matt black
Blank material: Graphite
Read the full Team Daiwa Surf Rod Review here
Team Daiwa Pros
HVF Nanoplus Technology: Experience heightened sensitivity and reduced weight, allowing you to detect even the slightest nibbles without straining your arm during long fishing sessions. Excellent casting distance and accuracy, to land you in the fishiest spots with every cast.
X45 Carbon Weave: The innovative X45 carbon weave design contributes to a lighter rod compared to competitors. You can cast lures back and forth for hours without tiring, meaning you're on the water with more chance to catch fish.
Fuji Fazlite Rings: The dark blue-colored Fuji Fazelite rings on the series guides ensure excellent line management, particularly when using braid. These high-quality rings offer exceptional performance without breaking the bank. And they also stand up to braid abuse over the years that befalls rods of the lower price ranges, meaning you won't have to keep upgrading the guides, or spend time on the phone to customer support or miss out on landing big fish from break offs due to poor guide wear.
Fuji Reel Seat: The sturdy Fuji reel seat ensures a secure connection between the rod and your reel, providing enhanced control during battles with powerful fish. You won't be worrying about your reel slipping or moving erratically under pressure, which can be the case with much cheaper surf rods.
Aesthetics: I love the grey finish on the Team Daiwa and think that it matches the dark blue hue you see on the guides when in the right light.
Comfortable butt handle: The padded criss-cross pattern on the handle offers a comfortable grip reminiscent of a samurai's katana handle, and feels great in the hand. When you're chucking out lures and plugs or a big bait and eight, you'll be confident this rod isn't going to slip out of your hands.
Team Daiwa Cons
I know the rod is priced above budget-friendly options, but offers superior technology and reliability for how much it costs. YOu'll love the feel of the Team Daiwa in your hand, and you'll be using it for years. In that time it's possible to go through two-three cheap surf rods that have the guides break down, or snap.
Team Daiwa Verdict
The Team Daiwa Surf Rod stands out as a top-notch choice for avid surf anglers seeking unparalleled casting performance, sensitivity, and durability.
If you're thinking about investing in a surf rod that you want to last, you'd be hard-pressed to invest this small amount of money for such a great quality piece of surf fishing kit.
For seasoned or beginner surf anglers I think it's a solid choice as a versatile surf spinning rod that handles bait fishing well too.
---
Why the Okuma Rockaway HD Surf rod made the top list
The Okuma Rockaway HD Surf Rod has impressed me with its combination of lightweight design, enhanced power, and impressive sensitivity.
It's an upgrade from the previous Rockaway rod in that the brand has made this latest model a lot lighter than previous Rockaway models.
This is important because heavy surf rods can become challenging to use after hours of casting baits and lures and fighting fish in the surf.
The Rockaway HD surf rod has some interesting rod blank tech.
Such as UFR2 tip technology, which provides flexible reinforcement and ensures the rod remains strong and durable even during powerful casts.
This rod is known for its great casting abilities from the way the rod blank loads up and releases in the cast.
You can confidently launch your casts without worrying about rod breakage, which is crucial when tossing out large weights and baits long distance.
For its price, the Okuma Rockaway Surf rod has become one of the most popular rods for surf anglers looking for a great casting rod for such a small price relative to other surf rods out there, like the Century models which go for hundreds more.
I feel this rod has all the qualities it should do as a hugely popular surf rod: light, responsive to bites, yet strong and powerful in casting and fighting fish – and it barely touches the life savings to buy one.
Okuma Rockaway HD Surf rod at a glance
Lengths available: 8-12ft
Pieces: 2-pieces
Power range: Medium-light to Medium-Heavy
Action range: Moderate to moderate-fast
Guides: Stainless steel SeaGuides, zirconium inserts
Reel seat: Aluminum (I believe)
Blank material: 24-tonne low resin carbon
Read the full Okuma Rockaway Surf Rod Review here
Okuma Rockaway HD Surf rod Pros
Sensitivity and Castability: The 24-tonne low resin carbon construction grants the rod exceptional sensitivity, enabling anglers to detect even the gentlest fish strikes. Moreover, the lightweight design facilitates effortless and accurate casting, making it ideal for surf fishing.
UFR2 Tip Technology: The flexible reinforcement of the UFR2 tip technology ensures the rod remains strong and resilient, perfect for handling hard-fighting species like striper and surf perch.
Corrosion-Resistant Seaguides: The stainless steel Seaguides with zirconium inserts not only prevent quick corrosion from saltwater exposure but also add to the rod's durability, ensuring longevity even with heavy usage. Double-footed guides suitable for both braid and mono lines.
Versatility: The Okuma Rockaway HD Surf Rod is compatible with both braid and mono lines, offering anglers greater versatility in their fishing setups. It's also effective for casting lures or bait, so it opens up the possibilities for catching different species in the surf, increasing your chances of hook-ups.
Balanced Design: The long butt section of the rod provides excellent balance during fights with larger fish, ensuring better control and reducing fatigue during extended battles. The two-piece rod design is a tip-over-butt joint for reduced weight and enhanced portability because the bottom section of the blank is narrower.
Solid Investment: Priced competitively, the Okuma Rockaway HD Surf Rod is an excellent investment as a reliable back-up rod or an upgrade from budget options, such as the Ugly Stik Bigwater.
Okuma Rockaway HD Surf Rod Cons
Breakages: there have been reports of the Rockaway rod breaking on some anglers, snapping under the pressure of big fish.
Flexible rod tip action: some say that the Rockaway has an overly flexible tip to it and that while good for casting, you don't want to overburden it on the weight due to risks of snapping.
Okuma Rockaway HD Surf Rod Verdict
For the money this is a rod that has been field tested over and over again.
So many surf anglers out there attest to its performance as a powerful surf rod that can handle a lot in terms of versatile saltwater fishing.
At such a low price tag and high performance for the price, it's a no-brainer to have as a back-up surf rod or a lighter-weight option to go to when you want to chuck lures out repeatedly and cover lots of ground. Also one of the top choices for a beginner entry-level surf rod.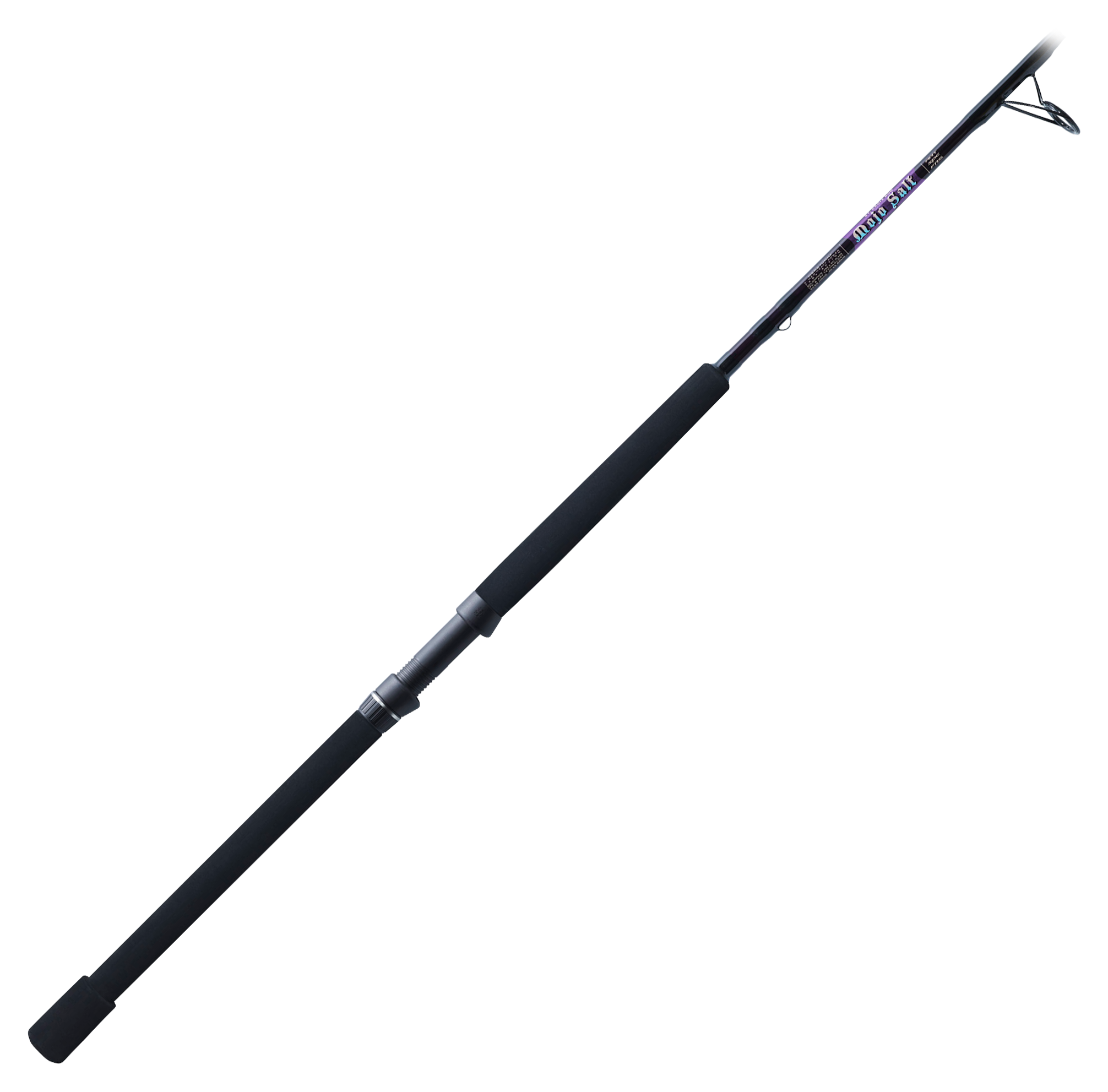 Why the St Croix Mojo Salt Spinning Rod made the top list
If you've not heard the brand name St. Croix, then you've either just entered the sport of surf casting, or you've had your head in the ground for a while.
This is one of the most popular surf rod brands, and the Mojo Conventional is one of the best factory casting rods out there.
St Croix, with its 70+ years of experience and being one of the longest-running fishing manufacturers in the US, brings reliability and trust to its surf rods.
I chose the St Croix Mojo Salt because it has a solid reputation as being a top-performing surf caster, without breaking the bank like a custom built rod, or the super high end rods do.
While the more premium rods might cast better, the St Croix Mojo Surf Rod earned its spot on the top list for several compelling reasons.
The Mojo has an offset furl for optimal fish-fighting power. Strategically positioned deep within the blank, this design ensures that your fighting power comes from the right place, aligning with your natural hand placement on the rod.
This gives you better control and increased power during intense battles with large fish, and also during casting.
The St Croix Mojo Surf Rod is a versatile tool suitable for various fishing scenarios, including bluefish, stripers, snook, bait fishing, and even handling large and heavy species like stingrays.
St Croix Mojo Salt Spinning Rod at a glance
Lengths available: 7-12ft
Pieces: 1-piece in the 7-8ft and 2 pieces in the 9-12ft
Power range: Medium-light to Heavy
Action range: Moderate- moderate fast
Guides: Braid-only designed guides, zirconium inserts
Reel seat: Fuji reel seat
Blank material: SC2 Graphite
Read the full Okuma Rockaway Surf Rod Review here
St Croix Mojo Salt Spinning Rod Pros
Lightweight Design: The medium power and moderate action make it easy to cast for extended periods without causing fatigue. The Mojo is nice and light, reducing fatigue in your arm when you're plugging, meaning you can fish for longer and harder to get into the hook-ups.
Excellent Casting Performance: The blank of this rod has a nice energy to it when its wound up in the cast under pressure, and the heavier models are capable of casting heavy bait up with remarkable ease, enabling impressive distances to help land deeper dwelling species like shark and big rays.
Durable Construction: The use of SC2 carbon ensures the rod's longevity, making it a reliable investment that can last for years so that you don;t have to keep replacing your rods or the components attached.
Comfortable Grip: The Xwrap handle, with its cushioned cork layer, offers maximum comfort and grip during casting and fish fights. I like this because my hands often get worn with the sand and water, but the grip on the Mojo is very comfortable.
All-Round Performance: I have to call out the Mojo's versatility, suitable for various fishing scenarios, making it an ideal all-round casting rod with 10 models in the range.
St Croix Mojo Surf Rod Cons
You want to watch the ceramic on the rod guides, because there have been experiences where the guides have worn and in some cases cracked altogether. St Croix's warrantee should pick this up for you though.
Rust has been known to gather under the guides, where the guide and ceramic touch. you should give the rod a rinse after heavy saltwater usage just to improve the durability.
St Croix Mojo Surf Rod Verdict
Whether you're targeting bluefish, stripers, snook, or larger species like stingrays, the St Croix Mojo Surf Rod will be a reliable and valuable companion in your surf casting adventures. This is one of the most popular mid-range surf rods out there, and surf anglers keep going back to it for a reason, so you should grab one when you can.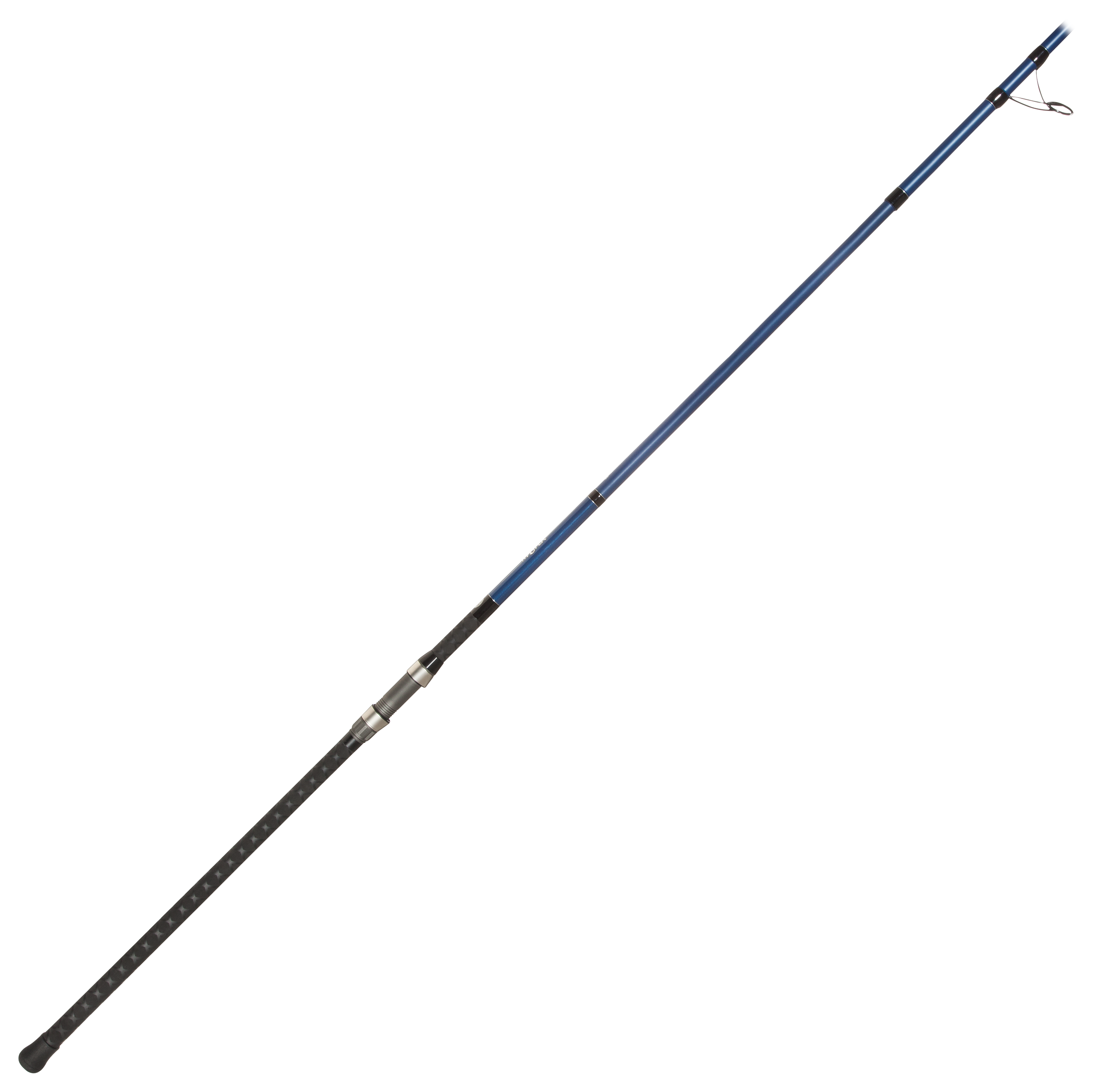 ---
Why the Offshore Angler Ocean Master made the top list
I was close to putting this rod as the best surf fishing rod for the money, but I decided to put it into the best surf rod for beginners because it is a little cheaper than the Team Daiwa surf rod.
Bass Pro has truly outdone itself with this rod model. The Ocean Master series brings numerous upgrades to the table, rivaling even higher-priced surf rods in the market. The value you get for the money spent on this rod is insane!
Unlike previous models I noticed that the Ocean Master Surf Rod is remarkably lighter, making it easier to handle at the beach. This reduction in weight also prevents quick fatigue, helping you to fish comfortably for longer.
I also saw that the components upgrades in the Ocean Master Surf Rod match much more expensive rods like the Penn Carnage.
I believe despite the slight price difference, the Ocean Master offers tons of value for your hard-earned money.
The other thing that I took note of in my research was that anglers consistently said that the rod's ratings are pretty much bang-on-accurate. This is super important when you want to chuck big baits out to target larger fish in the deep because it increases you chance of catching and taking home the glory of landing some monsters.
The blank also Carbon Coil technology which I can see improves the rod's power and responsiveness. It loads smoothly and recovers quickly, allowing for seriously long-distance casting.
This rod is strong too, and despite looking tough and chunky is actually very lightweight to handle. You can cast and cast on this thing huge distances and cover lots of ground to get your baits to where the fish are.
Offshore Angler Ocean Master at a glance
Lengths available: 9-12ft
Pieces: 2-piece
Power range: Medium to Heavy
Action range: Fast action
Guides: Fuji aluminum oxide guides, double wrapped
Reel seat: Fuji reel seat, heavy duty, cushioned hood
Blank material: Composite: Graphite / Glass
Read the full review of the Offshore Angler Ocean Master Surf Rod here.
Offshore Angler Ocean Master Pros
Unbeatable value for the price tag: Given the performance vs price tag of this rod, if you are serious about getting into surf fishing then this rod will see you catch more fish for less money. The Ocean Master will save you from the headache of having to replace cheap rods that break from the wear and tear of surf fishing.
Lightweight design: you won't get too tired using this rod extensively and it's versatile enough to handle heavy baits and strong currents using bait and lures to get you closer to hooking up moster fish and handling them with ease.
High-quality, durable components: The rod features top-notch components that are usually found on rods priced $50-75 higher. With Fuji K-series guides and a Fuji reel seat, the Ocean Master gives you peace of mind that your rod will last and not break on you quickly like other cheap rods might.
Generous returns policy: Bass Pro cover their rods pretty well so if there are issues with the rod, it's worth contacting them to discuss repair or replacement.
Offshore Angler Ocean Master Cons
There have been issues with guides and reel seats on the Ocean Master rods in the past, and you can find plenty of comments about this on the top fishing forums out there. However, I'm hard-pressed to raise complaints about the newest model, which seems to have addressed the failures of previous models.
Offshore Angler Ocean Master Verdict
For its price tag, the Offshore Angler Ocean Master Surf Rod is a true gem of a surf fishing rod. Bass Pro has hit the mark with this model, giving you top-quality components and construction design to help you target and land huge fish from the surf even in challenging conditions.
If you're serious about entering the sport of surf fishing as a beginner, at this price range the Ocean Master a bit of a no-brainer purchase.
But that's if you can get your hands on one!
Because they are so popular, they are hard to come by. So if you spot one for sale, I'd snap it up if I were you!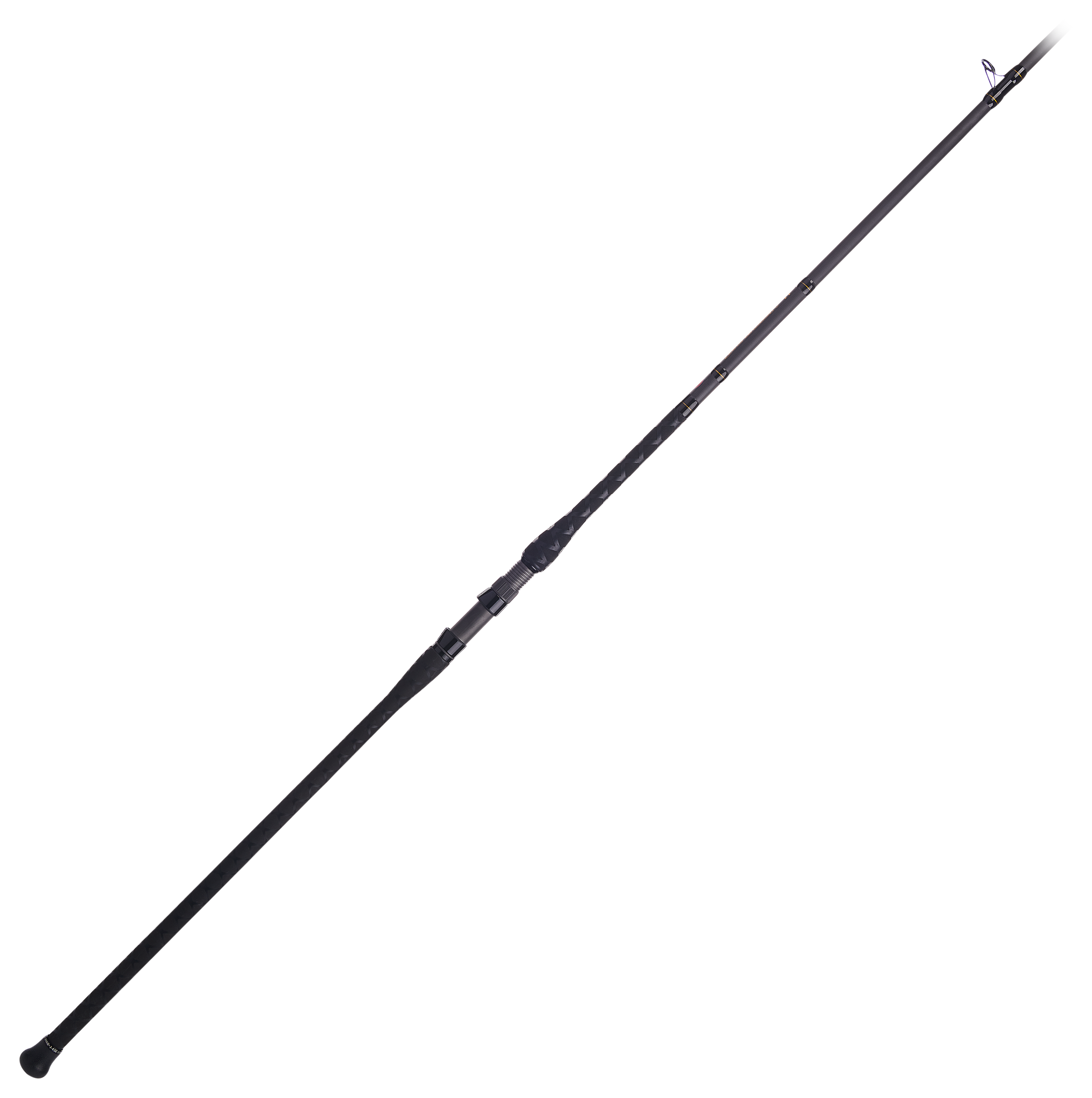 ---
Why the Penn Battalion 2 made the top list
Penn is renowned for its pedigree in the surf fishing space, and the Battalion 2 continues to uphold that reputation, making it a reliable choice for seasoned anglers and newcomers alike.
I own the Penn Battle 3 reel and this rod is designed to complement battle reels perfectly, which is why this rod caught my eye.
I really like that Penn has combined composite graphite and fiberglass in the blank, featuring SLC 2 construction with two layers of graphite/carbon.
This sets it apart as one of the strongest rods in the Penn range – giving you serious power, backbone and performance to fish the surf.
Equipped with Fuji Alconite guides and ceramic inserts, this rod can withstand the heat and pressure that braided lines often exert on guides, enhancing its longevity and overall performance. Unlike other cheaper rods with basic guides like the Ugly Stik Bigwater, the Battalion components will last a beating.
The shrink tube handle, though not foam-like, offers a tacky texture that provides a secure grip even when your hands are wet and slippery from water or fish slime. This material is pretty tough too, meaning you won't wear out a key part of the rod anytime soon nor lose control of your casting or retrieving.
Penn Battalion 2 at a glance
Lengths available: 8-12ft
Pieces: 2 pieces
Power range: Medium to Heavy
Action range: All moderate fast
Guides: Fuji® Alconite Guides
Reel seat: Fuji® Reel Seat
Blank material: Graphite composite
Read the full Penn Battalion Surf rod review here.
Penn Battalion 2 Pros
Durability: Anglers have reported using the Penn Battalion 2 for 5-6 years without significant wear or performance decline, demonstrating its exceptional longevity.
Reliable for Saltwater Fishing: Penn's commitment to quality for saltwater fishing is evident in the Battalion 2 Surf Rod, assuring anglers of a trustworthy companion for their ocean adventures.
High Sensitivity: The higher graphite ratio in the rod blank contributes to its lightweight nature while maintaining excellent sensitivity, allowing you to detect even the subtlest of bites.
Well-Balanced Flexibility: The rod's backbone is strategically designed to bend where it should, providing a perfect balance between flexibility and strength.
Penn Battalion 2 Cons
As with any rod you shouldn't 'high stick' the Battalion, but I've seen evidence of Battallions easily sapping from this type of misuse.
The rod blank is split 50/50, and if it were a 70/30 the performance would increase a lot. With the 50/50 design, you just have to watch the alignment of the rod blank pieces when you're fishing heavily on lures.
Penn Battalion 2 Verdict
If you have less than $150 to spend then the Penn Battalion is a darned good investment for a ruf rod.
You're putting your money with Penn and if you've read this blog before you know I like Penn and own a lot of Penn gear. They have strong credentials in the surf and saltwater space, and the BAttalion is another solid surf rod in their line up.
Go get one, and get out on the beach to land some blues!
---
Why the Penn Prevail 2 made the top list
I've had my eye on the Penn Prevail for a while as a possible back-up cheaper rod I can use for simple plugging and popping.
When I held it I really noticed the lightness for such good price tag.
The Penn Prevail 2 is exceptionally light, I know this will help cast those pencils and plugs effortlessly and fish for extended periods without feeling weighed down.
I like the design and feel of the tip. When you test the action it has the right amount of bend for better control during the fight with fish. I'm not sure I'd use it for bait fishing as the tip is quite stiff and fast, so much better for lures in my opinion.
In terms of guides, I see that the guides aren't the top quality guides found on other rods, but the one-piece stainless steel Penn Duraguides will help with smooth line flow, minimizing friction and maximizing casting distance.
While stainless steel guides are corrosion-resistant and are built to withstand the rigors of surf fishing and ensure the longevity of your setup, I'd still keep my eyes on them and rinse off after fishing.
As you can see from the experiences of a range of seasoned anglers, the Penn Prevail rod is used for surf fishing, rock fishing, or pier fishing, and is hugely popular among anglers in various different applications.
Penn Prevail 2 at a glance
Lengths available: 9-12ft
Pieces: 2 pieces
Power range: Medium-light to Heavy
Action range: All moderate fast
Guides: Stainless steel SeaGuides, zirconium inserts
Reel seat: Graphite
Blank material: Graphite composite
Read the full Penn Prevail 2 surf rod review here now.
Penn Prevail 2 Pros
Excellent casting performance due to the Fuji Alconite K-guides.
Lightweight design reduces angler fatigue during long fishing sessions.
Sensitivity and flexibility in the tip enhance fish control during battles.
Versatility for surf, rock, and pier fishing, making it a go-to rod for various environments.
Winn grips provide ergonomic comfort and improved grip for better handling.
Durable stainless steel Duraguides ensure smooth line distribution.
Penn Prevail 2 Cons
Some anglers might find it slightly pricier compared to other entry-level surf rods like the Ugly Stik Bigwater, but the better performance justifies the investment.
Penn Prevail 2 Verdict
For under $100 you can't go much wrong with the Penn Prevail.
I've seen it land decent-sized bluefish, reds, rays and bass.
So if you're excited to catch fish like this on a great-value rod with spare change to even perhaps buy a reel with it, then go out and get yourself a Penn Prevail 2 before they're all gone!
Performance: 4.7 stars
Durability: 4.75 stars
Value for Money: 4.8 stars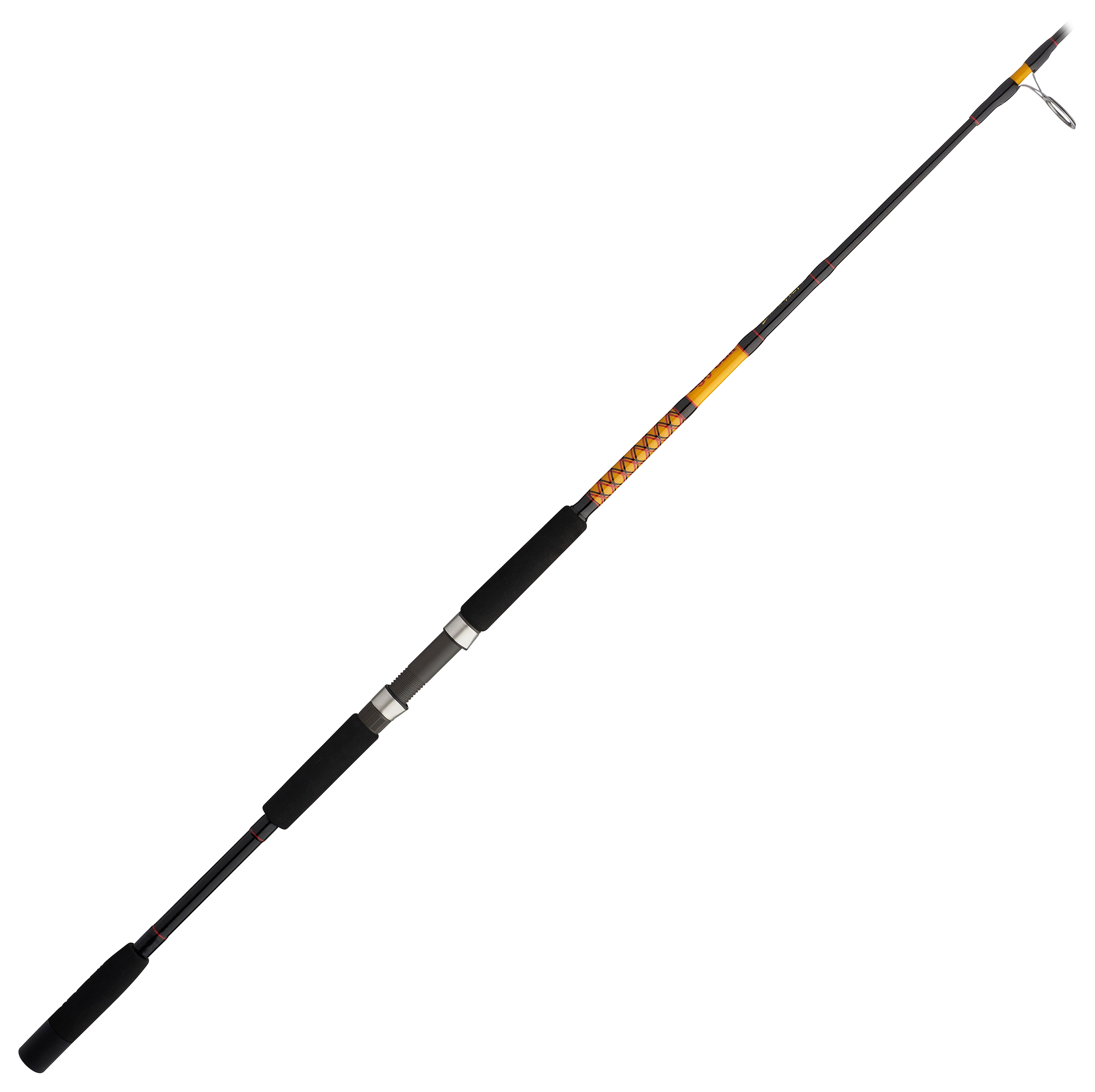 ---
Why the Ugly Stik Bigwater Rod made the top list
The Ugly Stik Bigwater Rod has a reputation for being a chunk of a rod for surf fishing. Ugly Stik is renowned for its strength and I know the BigWater is no different.
This rod is constructed with a combination of fiberglass and graphite, creating a powerful backbone and a perfect blend of strength, flexibility, and sensitivity. You'll be able to handle the challenge of battling big fish while maintaining control and preventing excessive strain on your shoulders.
The Bigwater doesn't cast all that bad either. It's not a top surf casting rod, but you can;t argue with the price range if you're looking for a budget option.
The chunky foam handles gives you plenty of surface area for a firm grip, ensuring you feel confident and in control when battling with a sizeable catch so you can land it easily while enjoying the fight.
The Ugly Stik Bigwater Rod is built to last on a budget, and can withstand rough handling.
The rod blank design doesn't give up easily, but one thing to watch out for is the durability of the components as these have a history of suffering wear and tear in the face of harsh surf fishing conditions, or after many straining battles with big fish.
I find Ugly Stik clearly backs their Bigwater Rod with a good warranty, giving you peace of mind in case of any unforeseen defects or issues, which are likely to arise in a budget rod.
Ugly Stik Bigwater Rod at a glance
Lengths available: 6-15ft
Pieces: 1-2 pieces dependent on model
Power range: Medium to Heavy
Action range: Fast
Guides: Stainless steel one-piece
Reel seat: Fuji reel seat
Blank material: Composite: Graphite / Glass
Check out the full Ugly Stik Bigwater Surf Rod Review here.
Ugly Stik Bigwater Rod Pros
Powerful and flexible: ideal for battling big fish and helping you land them with ease and control.
Comfortable: Chunky foam handles provide a secure grip for added control when your hands are wet during casting or retrieving fish. You won;t slip and lose your catch!
Solid rod blank: Durable and reliable, built to withstand challenging conditions so you don't have to worry about easy breakages or being worn out too easily.
Generous customer support: Good warranty coverage adds extra assurance for peace of mind about components that may suffer a beating.
Ugly Stik Bigwater Rod Cons
Guide Issues: Some users have reported that the tip guide can get worn from grooves caused by braid friction, especially when dealing with big fish. This may lead to potential damage to the stainless steel guide, even though the rod is designed to accommodate different types of lines, including braided lines.
Reel seat: I've heard experiences of the reel seats pinging out place sometimes on the Bigwaters, or feeling a little looser then you want them to be.
Ugly Stik Bigwater Verdict
If you're only going to be occasionally surf fishing on random weekends and want a rod you can rely on to chuck in the water, this is a solid option, backed by a brand renowned for rod strength.
Don't expect tons of performance, this is a basic budget option that will see you good for recreational fishing. Upgrade to the Ocean Master or the Team Daiwa surf rod if you're looking for something a little more serious.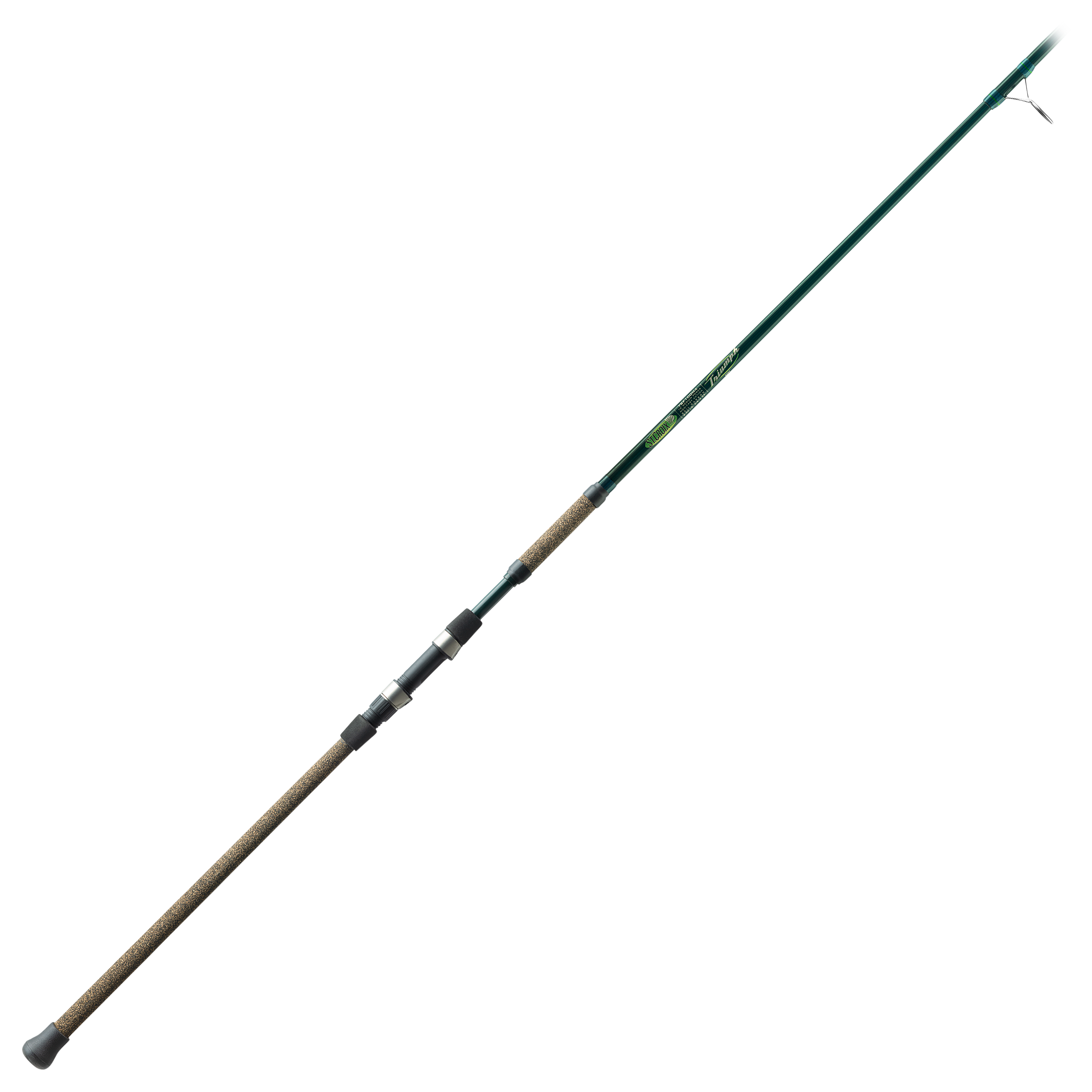 ---
Why the St Croix Triumph Travel Surf Rod made the top list
Travel surf rods are pretty difficult to get right. Imagine traveling overseas to a great surf fishing spot only to realise your surf rod is a pile of sh*t.
Breaking down a long surf rod into four smaller pieces can pose challenges for the performance in the rod because it disrupts the true parabolic nature of the rod blank.
That said, St Croix have done a fantastic job with their travel surf rod, the Triumph.
You'll see a lot of cheap travel surf rods on Amazon, but I wouldn't spend money I found on the street on one of those if I'm honest.
There are lots of fishing websites online reviewing them and you wonder if they've ever truly considered the quality of them.
This travel rod is from a rod brand that you can really trust!
The Sea Guide Atlas Performance rod guides and reel seat add to the rod's overall durability and ensure smooth and precise casting. This makes it an ideal choice for surf casting where accuracy and distance are crucial.
The rod is crafted using SC2 Carbon, a robust and lightweight material with high modulus carbon. This construction offers strength and sensitivity, making it suitable for various fishing conditions.
The custom cork Tape Grip I find a nice touch, the cork always feels good in the hand on a surf rod and is nice and traditional. It gives you both comfort and control and you feel like you have a nice secure hold on the rod while providing the sensitivity to detect subtle bites.
Goes without saying but the portability of the rod is excellent. St Croix throws in a great little sturdy travel case that's made of fabric and easy to take on flights. It's a heavy-duty case and suitable for overhead compartments without airport hassles.
St Croix Triumph Travel Surf Rod at a glance
Lengths available: 9ft & 10ft
Pieces: 4-pieces
Power range: Medium
Action range: Moderate fast
Guides: Aluminum oxide surf guides
Reel seat: Fuji DPS reel seat
Blank material: SC2 Graphite
Check out the full St Croix Triumph Travel Surf Rod Review here.
St Croix Triumph Travel Surf Rod Pros
Durablity: Excellent durability and castability due to Sea Guide Atlas Performance Guides and Reel seat. If rinsed after use and cared for, this travel rod will keep performing, allowing you to catch fish in the most exotic locations with ease.
Light and strong: Lightweight and strong SC2 Carbon construction offers sensitivity and power. Helps detect bites easily so you can land trophy fish from anywhere in the world and be the envy of all your pals.
Comfortable usability: Custom cork tape grip provides a comfortable and secure hold for extended fishing sessions. Look stylish on the beach casting with this travel rod, instead of looking like a cheap skate with a plasticky Amazon alternative.
Great customer support: Reliable St Croix customer service for inspections and potential warranty coverage. Feel protected and covered on whatever adventure you take with your St Croix Triumph.
St Croix Triumph Travel Surf Rod Cons
As a 4-piece travel rod, there may be a slight reduction in the overall quality and stability compared to a one-piece rod. Breaking the rod into multiple pieces might disrupt the natural parabolic bend, affecting the rod's integrity and performance in the cast.
But this is the trade-off you are making. Like I said, few others make rods and travel rods like St Croix do and you're covered by a decent warranty.
St Croix Triumph Travel Surf Rod Summary
Don't waste your time and money o a cheap travel rod from AMazon. Go with the best, time-tested, long-standing US-based fishing rod company for your travel rod needs.
St Croix have delivered ultimate performance in what is a very challenging rod type.
This thing will last you, the others won't.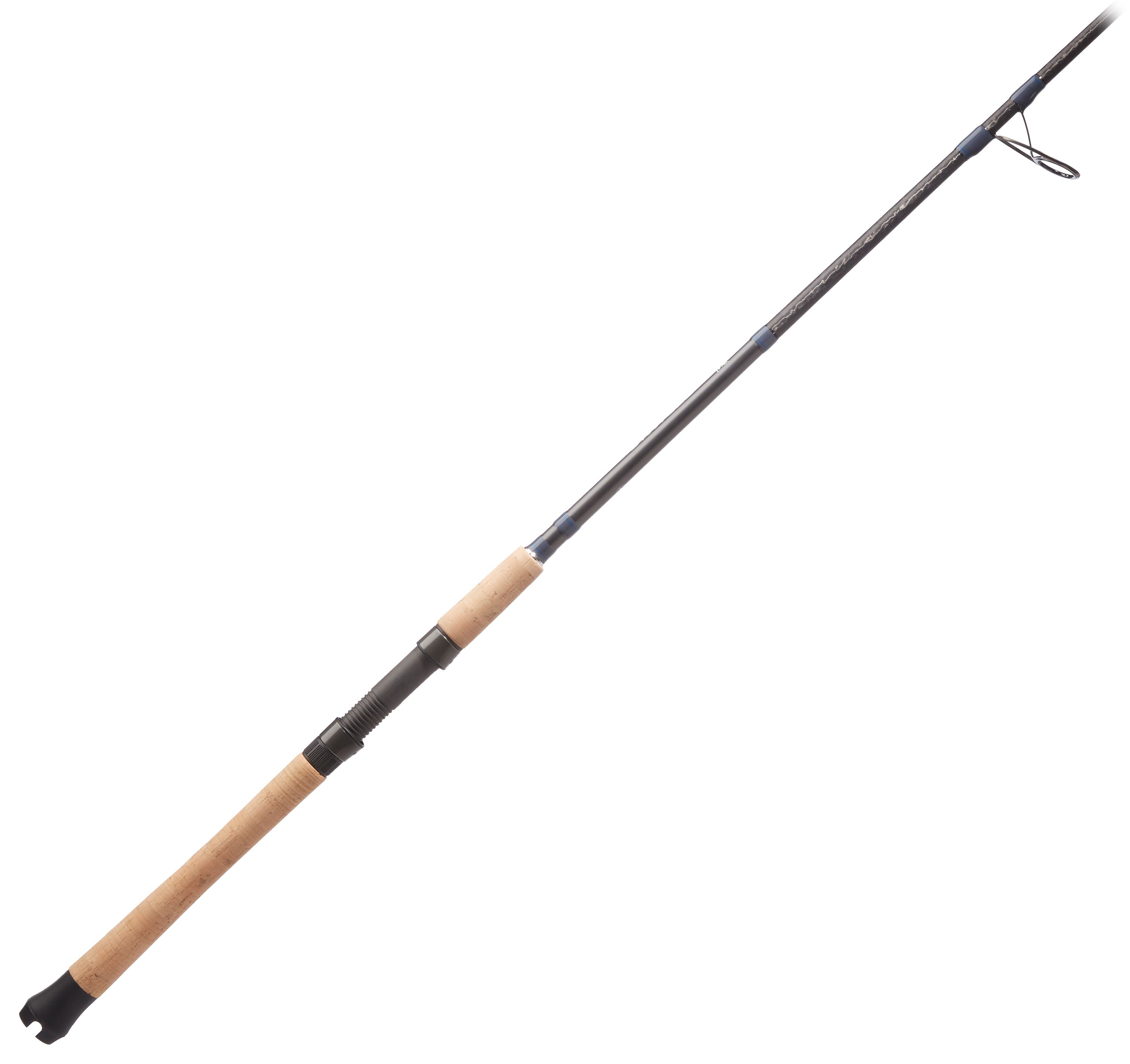 ---
Why the Shimano Teramar WC/ E Surf Spinning Rod made the top list
This medium-heavy rod boasts impressive power and sensitivity, making it the perfect choice for targeting striped bass using big topwater plugs and large soft plastics.
I know it's more of a surf spinning rod, suitable for lure fishing and plugging for big striped bass, snappers and large blues but it needed to make the list for its durability.
If you scour the world of Teramar anglers, you generally find nothing but exceptionally happy customers who attest to the durability and toughness of this reel.
I really like how Shimano has thought about making the Teramar incredibly versatile for different fishing scenarios and species.
The rod has excellent sensitivity and reactivity for lure fishing, the action of the rod helps to present the bait really nicely in the water, giving you precise control of the wiggle and wag of subsurface lures.
And a highly convincing, tempting hop movement above the surface using topwater pencils and plugs.
The Teramar looks cool too, which is of course a top factor ha!
But it does have a nice modernized design to it, so you're going to look pretty swish in front of your angling buddies.
I like the comfortable grip and ergonomic shape of the rod handle that slots nicely into the palm. You really need this when working lures effectively through the water, otherwise, all your flicking and jerking just feels very awkward and clumsy.
Shimano Teramar Rod at a glance
Lengths available: 6ft 6in – 8ft
Pieces: 1 piece
Power range: Medium-light to Heavy
Action range: Moderate fast – extra fast
Guides: SeaGuide, zirconium inserts
Reel seat: Fuji reel seat
Blank material: Shimano TC4 (Glass wrapped with Graphite)
Check out the full review of the Shimano Teramar here.
Shimano Teramar Surf Rod Pros
Versatility: The rod pairs exceptionally well with 5000-6000 reels, something like the Shimano Spheros or Saragosa reels, offering anglers a wide range of fishing possibilities, from targeting large reds with plugs to going after speckled trout or snook in deeper waters.
Sensitivity and Responsiveness: Teramar's hammer-proof TC4 glass blank will provide me with remarkable sensitivity and immediate feedback when working with lures, ensuring precise presentations and enhanced hook sets when the fish strike. This is really important to me when trying to get tricky fish to strike.
Improved Action Ratings: I see the Teramar has multiple action ratings, so we now have more options to select a rod that suits our specific fishing style, whether that's popping a cork for speckled trout or using big topwater plugs for striped bass.
Seaguide Guide Train: I'm impressed by the brand new Seaguide guide train aiding the rod's balance and control when you cast and retrieve. It know this addition is going to give me more leverage when casting and fighting hard-fighting fish, reducing the risk of losing prized catches due to imbalance and friction on the guides. They've also kept the weight down by making them single-foot.
Comfort and Control: The Teramar features a cork grip with a slight angled shape, providing a comfortable and secure hold during long fishing sessions. The heavy power-rated models come with a rubber gimble for extra comfort when battling large fish.
Shimano Teramar Surf Rod Cons
In the past there have been issues with the rod wrap and paint bubbling and peeling off, and also some of the glass material around the rod guides cracking and peeling away. However, this was a while back and I don't see many issues raised these days against these rods, so Shimano must've addressed these faults in the construction.
Shimano Teramar Surf Rod Verdict
The Shimano Teramar Surf Rod is undoubtedly a workhorse in the surf fishing world. I believe its blend of power, sensitivity, and versatility, paired with the sleek design and comfortable grip, make it a top choice for any serious surf angler.
This is seriously durable, strong and versatile surf spinning rod on the market, at a pretty decent price tag too.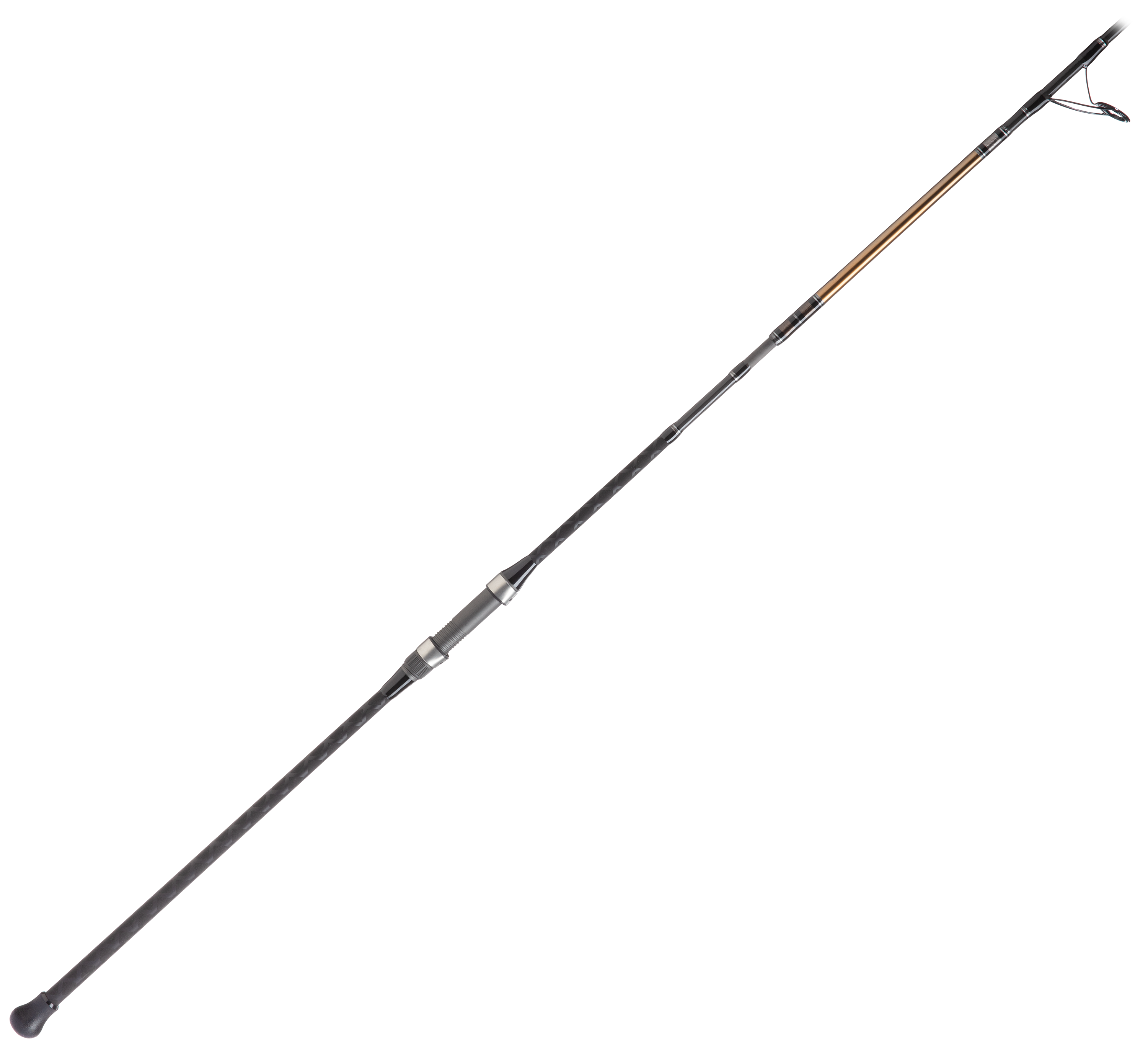 ---
Why the Tsunami Airwave Elite Surf Rod made the top list
The Tsunami Airwave Elite Surf Rod I've seen many times coming up when saesoned anglers share their experiences of the best surf rod for shark fishing.
I really appreciate the versatility that this brand has brought to the Airwave. It's perfect for both beginners on a budget and seasoned anglers seeking a reliable option for beach angling due to its range of sizes and versatility.
Meaning you can choose the right airwave for the size of shark you are targeting and get the choice spot on.
This rod is renowned as a go-to for shark fishing, particularly the 10ft medium-heavy and heavy options. It's just a tank of a rod in terms of power and backbone, but also surprisingly light on the arms.
Tsunami have made the actual blank thicker but this has not increased the weight. Which is awesome because you have so much power for a surprisingly light rod, so you don't get so tired casting and fighting fish.
For shark fishing, you need distance casting.
And the Tsunami Airwave is able to chuck huge weights and baits out a really good distance while having a fast action to help with the deep hook-sets you need for successfully landing sharks on the beach.
The Airwave surf rod also has some top componentry.
Fuji guides and reel seats are something I try and always look for in a surf rod because of their durability.
I don't want to be spending time getting guides replaced, or be caught out with my reel seat slipping when I'm into a big fish.
The assurance of having reliable Fuji components is a top priority when you're targeting sharks in the surf.
Tsunami Airwave Elite Surf Rod at a glance
Lengths available: 8ft – 12ft
Pieces: 2-pieces
Power range: Medium to extra-Heavy
Action range: Fast
Guides: Fuji K-series Alconite guides
Reel seat: Fuji Graphite and stainless steel
Blank material: High fiber with high-density construction.
Check out the full review of the Tsunami Airwave surf rod here
Tsunami Airwave Elite Surf Rod Pros
Exceptionally powerful: Ideal for shark fishing with excellent leverage from a powerful backbone in the blank, and excellent casting distance from the construction and action of the rod.
Surprisingly light: Lightweight design from the nano-blank technology stops you getting too tired to battle the sharks you're after.
Durable components: Fuji guides and reel seat give you that sense of reliability and comfort that nothing is going to give when you're on to a big shark. Sturdy wraps around the guides enhance durability and stability.
Budget-friendly: the Tsunami Airwave is surprisingly cheap for such a good shark rod.
Comfortable control: X-flocked handle and Fuji reel seat offer a comfortable and secure grip.
Tsunami Airwave Elite Surf Rod Cons
If you're going for a size below the 10ft, then I would avoid pier fishing around currents as the rod at that power rating may struggle.
While it's a good caster for the money, it doesn't cast as far as more premium rods or shark-fishing-specific custom rods. So if you are going after really big sharks in the deep you might want to look at something like the Shimano Terez instead.
Tsunami Airwave Elite Surf Rod Verdict
With all my recommendations, I try and find the best value products for each application. I'm not here just to tel you something is great because it's the most expensive.
And that's how I feel about the Tsunami Teramar. It's an affordable price yet will help you land some monster sharks easily when used effectively. It's a tank of rod for shark fishing and won't weigh you down too much in the fight.
And you'll have a bit of spare change left over, too.
---
Why the Okuma Celilo Surf Perch rod made the top list
The Okuma Celilo Surf Rod has gained a lot of popularity among surf perch anglers over the years. Not least because it is such good value.
The Celilo comes in a huge range of 18 different models, lengths and power ratings for tackling different surf conditions, so you can pick a rod that's right for your local beach and conditions, and the size of fish you hope to target, accommodating different rigs like Carolina rigs and surf perch lures.
I think this rod also strikes the perfect balance between being light and sensitive yet remarkably strong.
The rod's sensitivity allows anglers to detect even the subtlest of bites, while its strength ensures it can handle the fight when reeling in sizable surf perch.
The Okuma Celilo Surf Rod boasts a smooth action, too, that flexes nicely during casting but quickly returns to its original position.
It's a favorite among surf perch anglers because you can fling it out nice and far into those target wash areas in the surf where surf perch hang out for a bite.
Okuma Celilo Surf Perch rod at a glance
Lengths available: 7ft 6in – 10ft 6in
Pieces: 2-pieces
Power range: Ultra-light- Heavy
Action range: Moderate, Moderate fast, Fast
Guides: Aluminum Oxide Guides
Reel seat: Stainless steel hood seats
Blank material: Graphite composite
Check out our full review of the Okuma Celilo rod here.
Okuma Celilo Surf Perch rod Pros
Excellent value for money: This is a super budget-friendly surf perch but you won't be compromising quality in terms of sensitivity to detect those little surf perch bites.
Comfortable and light: A nice-looking traditional cork grip handle for extended fishing sessions. The rod feels very lightweight yet you can tell it has strong construction, making it easy to handle and cast.
Widely available: I see Okuma had done a great job in terms of distributing this rod – which again attests to its popularity in the world of surf perch fishing, trout and salmon.
Insanely versatile: massive range of models to tailor to your specific use-cases, enough to accommodate various fishing rigs and lure types.
Okuma Celilo Surf Perch rod Cons
Limited in terms of handling heavier lures or tackling larger fish species, if you want a more robust surf rod, opt for the Team Daiwa or the Ocean Master instead.
The cork on the handle feels a little thin, and is prone to wearing after heavy use at the beach. The friction and rub of saltwater, sand and your hands affect the grip a little. Worth rinsing after use.
As you'd expect from a cheaper rod, there is a little movement in the reel seat, which is something I often find frustrating on a surf rod.
Okuma Celilo Verdict
The Okuma Celilo Surf Rod shines as an exceptional choice for surf perch anglers. Its versatile, budget-friendly, with a pretty decent casting performance for reaching perch in the surf.
Yes, it has some challenges, but you can;t really knock it for the price!
Choosing the best rod for surf fishing – my criteria
Value for money
One of the top factors on my list of criteria is simply, is it worth the money?
Some of the best surf rods I've owned have cost next to nothing compared to the premium surf rods out there.
I know that everyone has different needs and budgets, so I've compiled this list with that in mind.
It's a realistic list – one that balances budget-friendly value picks vs more premium top-performing surf rods.
My aim is to balance performance and affordability across all the surf rods here.
Cheap rods might save money upfront, but they may not perform as well or last as long as their more expensive counterparts.
One way I like to gauge the value of a rod is to read the experiences of other seasoned anglers out there from fellow anglers, which I've drawn on as well as my own experience in this article.
It's also worth considering any warranties or guarantees offered by the manufacturer. A company that stands behind their product often signifies quality and customer satisfaction.
Remember, getting value for money doesn't necessarily mean choosing the cheapest option; rather, it's about finding a rod that best meets our needs at a reasonable price.
Distance
When it comes to surf fishing, It's crucial to consider how you will be using the rod.
I have many different lengths of rod, which help me cast varied distances with different lure and bait options.
To increase our chances of catching fish, we want to be able to cast our bait or lure out to different areas in the surf – some close in, some very far out.
This is where the right rod selection comes into play.
Casting distance is influenced by several factors, including rod length, action, and power. In general, longer rods offer greater casting distance, allowing us to cover more water and reach fish that may be holding further out in the surf.
A rod length of 9-12 feet is ideal for most surf fishing situations, as it offers a good balance between casting distance and manageability. 
For surf casting, you want a rod with enough backbone to cast heavier lures and handle the weight of the surf.
Durable components – blanks, reel seats and guides
Rod blanks
Surf rods must be built with high-quality, salt-resistant materials to withstand the harsh elements and conditions that come with surf fishing.
Graphite and fiberglass are commonly used for their strength, resilience, and ability to resist corrosion. Graphite rods tend to be lighter and offer more sensitivity, while fiberglass rods are known for their durability and flexibility.
A mix of the two materials can produce some very strong rods, for example, the Ugly Stik GX2 is fiberglass and graphite and is renowned for being incredibly strong.
Rod guides
Durable guides are one of the most important elements of a surf rod. If your guides aren't up to scratch, your casting will suffer and you'll lose fish from the line breaking on the worn guides.
I look for a few key things in guides when choosing a surf rod:
High-quality, stable materials – ideally look for eyelet insierts that are made with tough materials able to withstand heat, pressure and stress, such a quality ceramics. Fuji K-series guides are a great standard.
Robust guide feet: choose rods that have very strong guide feet that hold the guides in place even under pressure. You can get lightweight single foot or heavier double for guides dependent on use case.
Corrosion resistance: we're fishing in saltwater here, so materials should be resistant to corrosion by salt, water and sand.
Reel seat
Reel seats come in different materials, carbon fibre, plastic or metal. Let's have a look at each
Avoid plastic reel seats on surf rods.
Carbon fibre reel seats are lightweight and perfect for battling small to medium-large fish species.
Metal reel seats are appropriate when targeting huge fish, like sharks, where you'll likely be using a rubber gimbal for leverage and putting the reel seat under tons of pressure.
Accuracy
In surf fishing, success is all about the placement of your bait or lure in the surf. You are trying to target specific areas of structure, so need a rod that provides accuracy in your cast.
You wan to choose a rod that has the right length, power and action that helps you cast accurately and effectively.
For beginners, a rod that is too slow in its action can be difficult to cast accurately, which is why you should go for a moderate to fast action on your first rod I believe.
Rod Power
Power basically refers to the rod's ability to be put under weight and pressure and how it handles that weight in terms of how much force is needed to bend it. The power of a rod is typically classified as light, medium, heavy, or extra-heavy.
The power you need will depend on the type of fish you're targeting and the bait you're using.
If you're a hardcore surf caster targeting larger fish like striped bass or sharks, you'll need a heavy or extra-heavy rod with a lot of power to handle the weight and strength of the fish.
On the other hand, which is similar to how I tend to fish the surf, if you're targeting smaller fish like flounder or sea trout, a light or medium power rod will be sufficient.
Action and Sensitivity
When choosing a surf fishing rod, two important factors to consider are action and sensitivity.
Action refers to the amount of the rod that bends when pressure is applied, while sensitivity refers to how well the rod transmits vibrations from the line to the angler's hand.
In my opinion, for surf fishing, you'll want a rod with a moderate to fast action with high sensitivity.
This is for three reasons:
It will help you cast further and with more accuracy,
It will help with effective hook sets.
It will provide the power needed to reel in larger fish.
A moderate action rod will have a bend in the top half of the rod, while a fast action rod will have a bend in the top third of the rod.
Portability
When it comes to surf fishing, portability is an important factor to consider when choosing the best rod.
A portable rod is easy to transport and store, making it convenient for anglers who love to travel and fish.
When looking for a portable surf fishing rod, consider the length and weight of the rod.
A shorter and lighter rod is easier to carry and handle, especially when fishing on the go.
However, keep in mind that a shorter rod may not give you the casting distance you need.
Versatility
When looking for the best rod for surf fishing, versatility is an important factor to consider.
A versatile rod can handle a variety of fishing situations and can save you money in the long run by not needing to purchase multiple rods for different scenarios.
One of the key aspects of versatility is the rod's power.
A medium to medium-heavy power rod is a great option for surf fishing as it can handle a variety of bait sizes and weights.
Additionally, a moderate action rod can provide the sensitivity needed for detecting bites while still having enough backbone to handle larger fish.
Usability
When choosing the best rod for surf fishing, usability is an essential factor to consider. You want a rod that is comfortable to use and can handle the target species you are after. Here are some criteria to keep in mind when evaluating the usability of a surf fishing rod:
Length: The length of the rod should be appropriate for the type of fishing you are doing. A longer rod will allow you to cast farther, but it may be more challenging to control. A shorter rod will provide more control but may limit your casting distance.
Weight: The weight of the rod should be comfortable for you to hold and use for extended periods. A heavy rod can cause fatigue, while a light rod may not have the necessary strength to handle larger fish.
Grip: The grip of the rod should be comfortable and provide a secure hold, even when wet. Cork and EVA foam are popular materials for rod grips.
Action: The action of the rod refers to how much the rod bends when pressure is applied. A fast action rod bends mostly at the tip, while a slow action rod bends throughout the entire length. A medium action rod is a good compromise between the two. The action you choose will depend on the target species and the type of bait you are using.
Reel Seat: The reel seat should be secure and easy to adjust. Look for a reel seat that can accommodate a variety of reel sizes.
By keeping these criteria in mind, you can choose a surf fishing rod that is comfortable to use and meets your needs. Remember to consider the target species when selecting a rod, as different fish require different rod strengths and actions.
Best rod for surf fishing – the verdict
There you have it.
I hope I've made the choice about finding the best surf fishing rod a little simpler for you, while providing you as much detail as I can into each one without overwhelming you.
Remember, there is no perfect rod for surf fishing – it all depends on your needs and to select that based on what I've shown you today.