Achieving a long cast reel that was lightweight was Penn's aim with the Conflict 2 Long Cast version.
Comparing it to the Spinfisher VI in the 6500 size weighing 24.4oz, the 6000 size Conflict 2 is only 18.5oz.
This makes a difference on a long beach casting session when you're chucking lure after lure into the surf, searching for that bite.
Especially when using lures and reeling in from out across the breakers over and again to coax a predatory fish to make a strike. Your wrist will thank the reduced weight.
Despite being lightweight though, this is still a solid, strong reel capable of holding a significant amount of line on the spool perfect for surf fishing.
The Conflict 2 won a spot for the alternative best surf reel under $200 on our list this year. Click to read the full article now.
Let's dive into this Penn Conflict 2 Long Cast review…
We are reader-funded and objective. To keep afloat, sometimes we earn a small commission when you click a link. Castandkayak.com is also a participant in the Amazon Services LLC Associates Program, an affiliate advertising program designed to provide a means for sites to earn advertising fees by advertising and linking to products on Amazon.com. Amazon and the Amazon logo are trademarks of Amazon.com, Inc, or its affiliates.
Who should invest in the Penn Conflict 2? 
The Penn Conflict 2 Long Cast is an advanced surf reel that comes with the price tag.
Penn has purpose built the Longcast version for surf anglers, to create their lightest, yet durable surf reel available in the Penn range.
The long cast spool with extra capcity, the level line lay that is created by the long, slow ocscilation of the spool, and the lightweightdesign make this a top choice for distance beach anglers.
If your local surf fishing beach requires you to cast far to reach over the breakers into the target zone where fish are predating, then this reel will help you get there.
I'm thinking about those pompano anglers, particularly when the pompano move further out from the shore at different times of year.
Get a large size on a long rod and you'll be launching this thing pretty far.
I'd stick to bait fishing mainly, or targeting species that don't need ultra-fast lure retrieval because the retrieval rate is a little slower on the Conflict 2 LC models – only 36in on the 5000 model.
If you're really looking for retrieval speed then the 5000 size Daiwa BG has a retrieval rate of about 47 inches per crank. So with the BG you can really whip those lures across the surf.
Penn Conflict 2 Specs
Best for: Long casting with lures due to lighter weight
Sizes: 4000, 5000, 6000, 7000, 8000.
Drag: 13lb, 15lb, 18lb, 20lb, 22lb
Line capacity: 265yds/30lb braid on the 5000 size, 590yds 30lb/braid on the 7000 size.
Weight: 16.8oz on the 5000, 21.7oz on the 7000 size
Bearings: 8
Gear ratio and retrieval: 35inch on the 5000 LC size
Handle side: Interchangeable right/left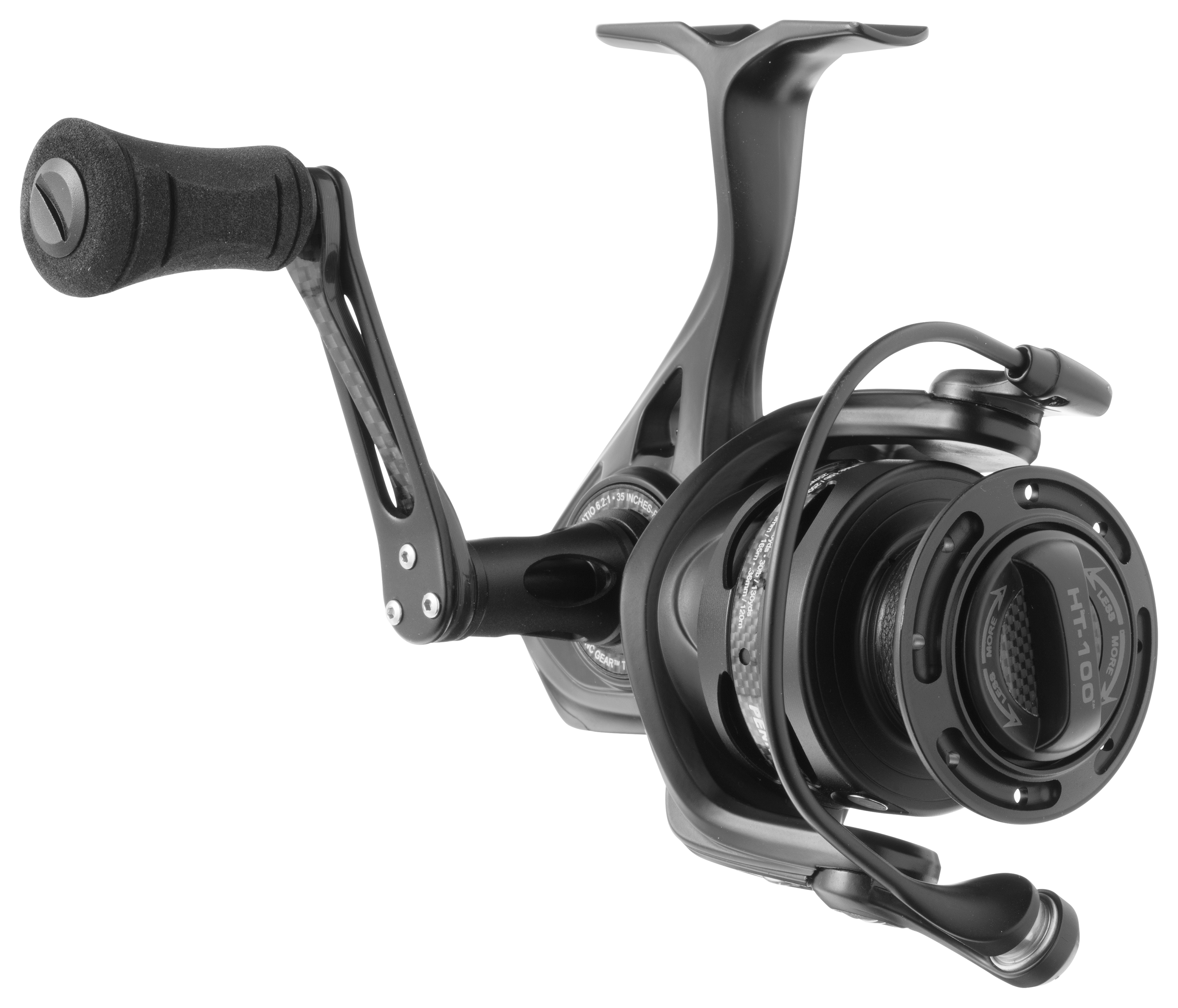 Penn Conflict 2 Pros
It's stripped of unnecessary weight
This is one of the most apparent features of the Conflict 2 LC model – it's particularly light.
This comes for the RR-30 or 'Rigid Resin' as mentioned by Penn, which means the rotor is super light and well balanced, as well as being pretty durable.
So unlike many other Penn reels which are full metal, this shaves off weight by using different construction technologies.
The spool of the Conflict 2 LC is aluminum to help make the reel stable yet lightweight.
Now, lots of the marketing spiel plays on this feature, which I do think is a great development for this specific reel. But as I've mentioned lightly and will go more into later, it's not particularly a useful feature for super-fast lure anglers that really require speed.
The Conflict 2 has tons of capacity for its size and weight and casts great
As you'd hopefully expect from a long cast reel model, this reel holds a significant amount of braid on it.
I've seen cases of anglers loading it up with 100lb braid and still don't worry about being spooled off, thanks also to the powerful HT-100 drag system.
The amount of braid you can fit on this reel while coming in at such a low weight is really surprising.
The reel has line backing on it too, which Penn a Superline Spool. This backing means you can stick braid straight onto the reel without it slipping at all when you're using it.
There are anglers out there who still prefer to back the spool with some mono as a precaution, but Penn say this is not necessary due to this backing.
The reel uses 'Leveline' technology which helps lay the line evenly and parallel along the spool which means the line more easily leaves the spool on casting. The Conflict 2 really does help improve your casting abilities with the extra capacity and the way the line sit and comes off the spool evenly.
A solid body and rigid reel with Penn's RR 30 carbon fiber body
Following Penn's pedigree of creating very solid stable reels at a good price, the Conflict 2 follows this lineage.
The RR-30 material that the body is made out of is basically a composite that contains 30% carbon. THis carbon inclusion increases the strength and rigidity of the reel itself.
If it was all plastic you'd feel some flex in the reel but Penn wanted to try and eradicate that by using their RR-30 material.
So you are left with a lightweight and stiff reel that is still able to handle some powerful max drag measurements to tackle large game fish like tarpon or monster reds.
Decent stopping power in the drag system to fight big fish
Despite being very lightweight for a long distance surf casitng reel that holds the length of spool it is able to, it's still able to house Penn's reliable and reputable HT-100 drag system.
The HT-100 drag syatem uses a particular type of grease that 'activates' as soon as the drag starts up.
The drag washers themselves are carbon fibre to increase their strength and provide the decent range of max drag capcity across the sizes, from 13lb on the 4000, up to 22lbs on the 8000 model.
This makes this reel excellent for surf anglers – which is the type of fishing I enjoy most.
The Conflict 2's drag means you can manage pretty large fish through the pull back and wash of the surf, as well as the fight the fish puts on.
These conditions will test any reel but the Penn Conflict 2 is designed for these conditions.
Penn's solid CNC gears
We've mentioned these gears in other reviews, like the Penn Battle 3 review. Penn is including their CNC cut gears into many models now and that's a boon for anglers.
Moulded or cast gears were the go-to in many earlier Penn (and other brand's) reels.
But they have a history of breaking and wearing easily under testing conditions like fighting big game fish that can put lots of strain on a reel.
Penn's latest CNC technology involves the main gears being machine precision cut straight from the metal itself, no melting and casting or moulding.
This gives you strength and durability over time and usage.
The teeth of the gears are particularly chunky and deep and they thread together extremely accurately.
If you've ever picked up a cheap reel and felt a little give in the reeling otion, that's often due to poor gear construction.
The CNC gears eliminate that and give you immense reliability, stability and control when you're putting the reel, and your own skills, to the test.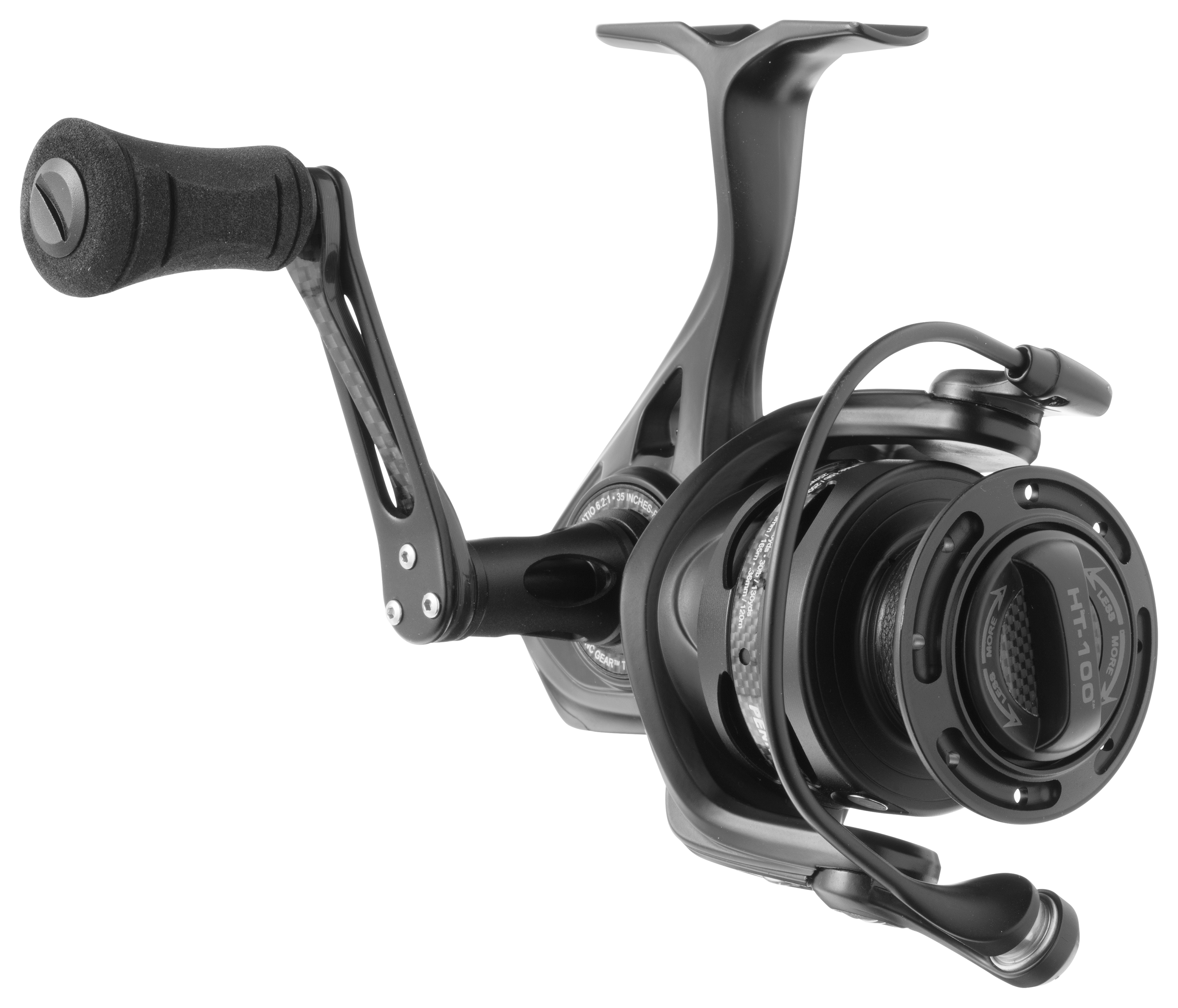 Chunky Penn-style foam handle for confident gripping
To complement the other aspects of the Conflict 2's elements that increase the sense of control and stability, is a lovely big fat foam handle.
I really prefer these types of handle knobs over others because they feel so good in your hand – you can really crank easily and consistently.
There have been time where my hand slips off a plastic or rubber handle when wet and slimy on the beach and I'm cranking real hard to het a lure in or a fight a fish.
The soft grippy foam helps avoid all this – and callouses!
Penn Conflict 2 Cons
The Conflict 2 is not completely waterproof
While durable and built solidly, the Conflict 2 isn't necessarily designed to be completely waterproof.
The Conflict 2 doesn't carry any waterproof seals in it's gearbox, so avoid any submersions and heavy-spashes.
The only parts that are sealed are the drag, and the stainless steel bearings are rubber sealed which helps protect them and maintain a very smooth reeling motion.
If you think you need a submersible reel that also has long cast distance to it, then the Penn Spinfisher VI is a good alternative option. Although it's a bit heavier so not ideal for lure fishing over long periods – try a Van Staal VR reel for lightweight and the ability to be completely submerged.
Some reported flex under significant pressure
When pushed to the max drag, with a heavy, hard-fighting fish, there have been reviews on popular fishing forums of the Conflict 2 that the reel can flex a little in the RR30 body.
And that this happens when the reel is under a lot of strain when pulling in a fish, like a large tarpon or similar.
Remember that the rotor here is not metal, it's carbon fiber.
This flex has had some impact on the gears themselves meshing properly causing issues.
But I'm sure these anglers are testing the Conflict 2 far further than most saltwater anglers might push it. I think the majority of Conflict 2 users get a pretty decent life out of the reel.
Penn Conflict 2 Performance
The Penn Conflict 2 scores pretty well for the applications it's suited to – saltwater beach or rock casting or offshore boat fishing.
It won a place on our list of top reels for surf fishing, particularly the best surf fishing reel under $200.
Its light weight means you can be a little more agile if needed on the beach or rocks and not get so tired from carrying a heavier reel.
While it may have a slower retrieve rate per handle crank for fast-paced lure fishing, that shouldn't stop you from using this as a solid, durable and powerful option for fishing with bait. Or even slower lures that tempt in slower moving ambush fish into strike.
It's incredibly smooth thanks to the sealed ball bearings and chunky aluminum gear that sits inside the gearbox.
For fishing most sizes of surf saltwater you'd find off the beach or rocks, the Penn Conflict 2 is going to handle them very well.
You get a lot of what makes Penn so great in the gearing, the drag, the spool technology and the bearings system, and at a much lower weight range than its other models like the Spinfisher VI or the Battle.
Plus you get all that casting capacity built in!
Penn Conflict 2 sizes
The Conflict 2 comes in limited size options, at the larger end of the scale. See the size chart below.
| | | | | | | | |
| --- | --- | --- | --- | --- | --- | --- | --- |
| Sizes | Bearings | Max drag | Weight | Gear ratio | Line Retrieve | Braid Cap yds/lbs | Mono Cap yds/lbs |
| 4000 | 8 | 13LB | 13.7oz | 4.8:1 | 33 | 260/15 220/20 150/30 | 205/8 180/10 125/12 |
| 5000 | 8 | 15LB | 16.8oz | 4.8:2 | 36 | 450/15 380/20 265/30 | 355/8 310/10 215/12 |
| 6000 | 8 | 18LB | 18.5oz | 4.8:3 | 43 | 620/20 430/30 355/40 | 495/10 365/12 330/15 |
| 7000 | 8 | 20LB | 21.7oz | 4.3:1 | 35 | 850/20 590/30 490/40 | 650/10 480/12 430/15 |
| 8000 | 8 | 22LB | 23.2oz | 4.3:1 | 40 | 720/30 600/40 450/50 | 585/12 525/15 450/20 |
Penn Conflict 2 Construction Specs
The Penn Conflict 2 is a bit of a mixed bag in terms of construction materials.
In making Penn's lightest spinning reels, they made some swaps and tradeoffs with the materials to reduce weight and retain as much rigidity as is possible with the chosen materials.
The body of the reel is Penn's RR30 carbon fiber – this is where the light weight comes from.
The spool is made of aluminum, again a strength and weight choice and often the go to spool material.
The bearings are stainless steel with rubber bearings built in
The gear material changes dependent on the model you have. The 5000 is a little different which has brass gears compared to all the other models that are aluminum. And the pinion gears are also brass adding to the strength of the mechanics inside the reel.
The Conflict 2 won a spot for the alternative best surf reel under $200 on our list this year. Click to read the full article now.
---
Thanks for tuning into this Penn Conflict 2 Long Cast Review!
5 Must-know Surf Fishing 'Secrets' that lead to more hook-ups.
Free Guide to catch more fish – without spending money on gear!
Simple habits to hook up more fish
Quick and easy to implement on your next fishing trip
Don't pay any more money on gear.
Just ENTER YOUR EMAIL ADDRESS BELOW, and get the FREE resource, NOW!