If you're after a solid, stable fishing system in a combo setup, then put the Penn Battle 3 combo on your list. 
This combo is a little cheaper than alternatives like the Daiwa BG or Penn Spinfisher VI combos but delivers huge value. 
The Penn Battle 3 combo is a smash hit among charter boats for its performance and durability in saltwater battles with big fish.
(It placed third on our best surf fishing combos that are great value today.) 
If you need more persuading, then let's get into this Penn Battle 3 combo review…
… otherwise, click the link below, buy the Battle 3 Combo and just start fishing!
---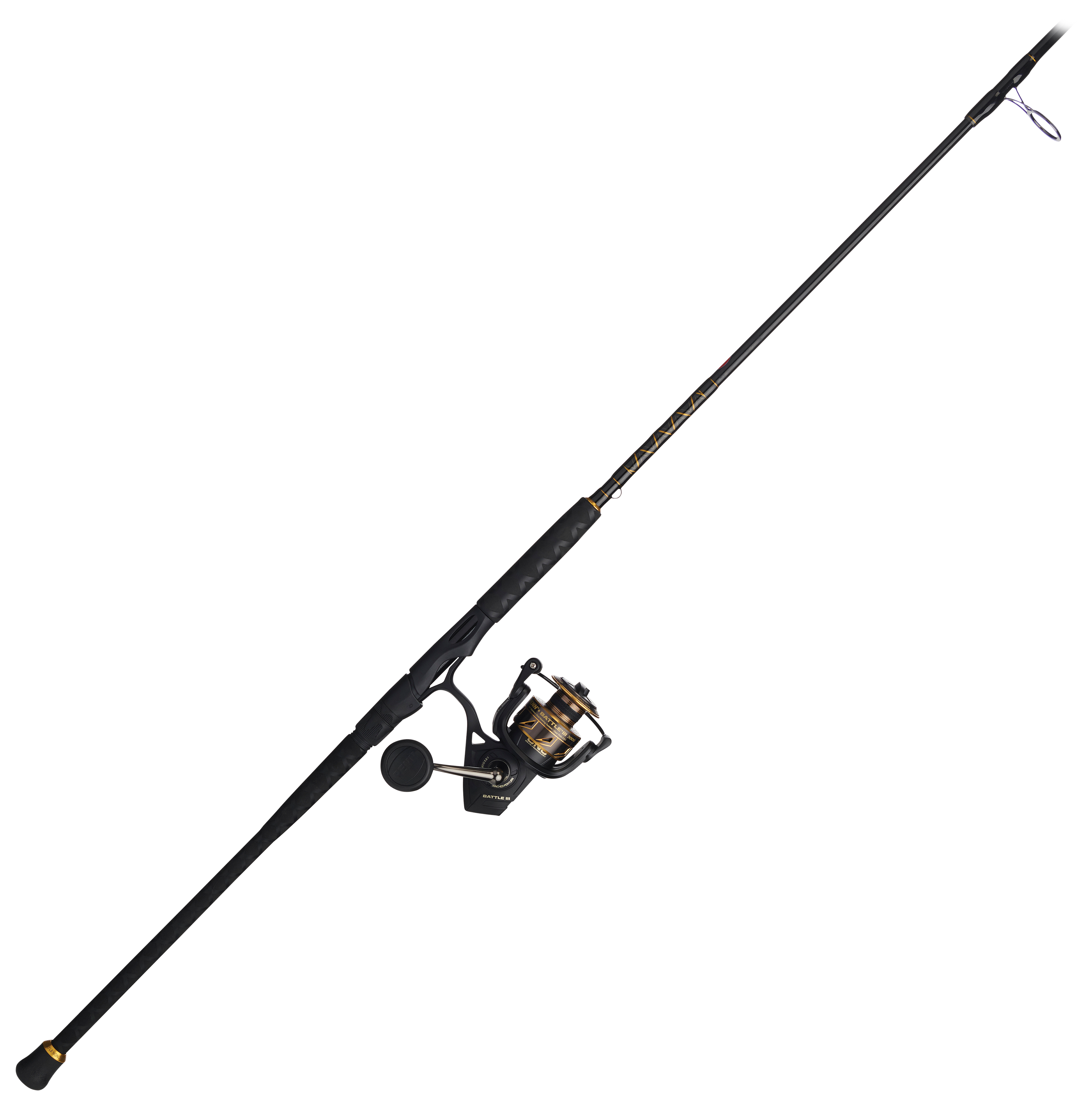 ---
Who should invest in the Penn Battle 3 Combo?
If you're after dependable gear for saltwater fishing, the Penn Battle 3 surf spinning combo is a worthy investment. 
Designed for those who value performance without breaking the bank, this combo excels in its rugged build and precise gear system. 
I think the Penn Battle 3 is a great choice for pursuing medium to large fish species that put up a fight.
A key feature I love with the Battle 3's is Penn's infamous HT-100 drag system. It's smooth and gives you control during battles, helping you to tackle even the toughest fish. 
With various size options available, you can tailor your setup to match your specific fishing preferences. 
If you're like me and you appreciate gear that can withstand harsh conditions, whether surf, rock, pier or kayak fishing the Battle 3 combo's all-metal body showcases Penn's renowned durability. 
I love the feel of the Penn all-metal bodies.
The Penn Battle 3 surf spinning combo is tailored for anglers who desire reliability, durability, and versatile performance in their surf fishing adventures.
Penn Battle 3 Combo Specs
Penn Battle 3 reel:
Best for: Versatility and choice, the size range means you can find a model for sport fishing for game fish right down to finesse inshore fishing too.
Sizes: 1000 – 10000
Drag: 15lb in the 4500, 25lbs in the 5000+.
Line capacity: 185yds/30lb braid on the 4000, or 24yds/30lbs braid on the 5000.
Weight: 12.2oz on 4000, 18.8oz on 5000 size.
Bearings: 6 bearings across all sizes
Gear ratio and retrieval: 4000 is 6.2:1 and 37inches
Handle side: Right / Left
Penn Battle rod:
Lengths available: 8f-10ft
Pieces: 2-pieces 
Power range: Medium-Heavy – Heavy
Guides: Stainless steel on-piece Dura-Guides 
Blank material: Graphite composite
Check out our article on the top surf rod and reel combos available today!
Penn Battle 3 Combo Pros
Durable and Precise Gears: 
The Penn Battle 3 combo features Penn's CNC cut gearing, the same as in higher-end reels like the Spinfisher VI. 
These gears are built tough and precisely cut, ensuring they mesh seamlessly without any gaps or play. 
This translates into confident fish fighting, allowing you to reel in large species with ease and certainty, ultimately adding to your successful catches.
Sturdy All-Metal Body: 
Penn's reputation for sturdy all-metal bodies shines in the Battle 3 combo. 
This reel's robust construction provides remarkable durability – a characteristic synonymous with Penn's reel designs. 
Its resilience allows you to confidently face tough conditions without the constant worry of potential damage, ensuring a reliable performance on your fishing ventures.
Enhanced Sensitivity with Strong Rod Blank: 
The Penn Battle 3 rod boasts a resilient graphite composite blank that matches the strength of the reel. 
This tough blank not only contributes to the combo's overall sturdiness but also offers heightened sensitivity. 
This enhanced sensitivity enables you to detect even the subtlest bites, ensuring successful hook sets and increasing your chances of reeling in more fish during your angling sessions.
---
---
Penn Battle 3 Combo Cons
Larger Reel Size: 
The surf combo's reel sizes are notably larger, such as the 5000 reel on an 8ft rod. 
This size disparity might give you a sense of imbalance and bulkiness while fishing. 
Handling a larger reel could affect your casting and overall angling experience, potentially impacting your comfort and accuracy on the water.
Limited Saltwater Protection: 
It's worth noting that the reel lacks full sealing to safeguard it from saltwater exposure. 
While the ball bearings are sealed, the complete reel body isn't, requiring careful maintenance. 
Given the corrosive nature of saltwater, this absence of full protection means you'll need to take extra precautions to prevent potential damage, ensuring the reel's longevity and optimal performance throughout your fishing outings.
No dunking!
Penn Battle 3 Combo Performance
The Penn Battle 3 surf spinning combo is a popular choice among anglers for good reason. 
I believe the Battle 3 is one of, if not THE best-selling spinning reel out there.
This combo delivers solid performance and durability, enhancing your fishing experience on the shore. 
This drag system ensures smooth control during battles, and with multiple size options, you can tailor your gear to the fish you're targeting. 
Along with the power in the Battle 3 reel, you can feel the toughness and stability of it too.
The gears in combination with the HT-100 drag and the strong metal body put a lot of control in your hands and these reels perform surprisingly well when under pressure. 
THe HT-100 drag handles the force of the fish, and the reel itself doesn't buckle under pressure.
This is why a lot of my reels are Penn reels, and why I also bought the High-Speed version of the Penn Battle 3.
Complementing the rugged reel is the Penn Battle rod, with its robust graphite composite blank that matches the reel's sturdiness. 
This strong yet sensitive blank allows you to detect subtle bites and ensure successful hook-ups, translating to more successful fishing trips.
Penn Battle 3 Combo Construction
The construction of the Penn Battle 3 combo is built to withstand the challenges of the surf fishing environment. 
As the reel sizes increase above 6000 Penn introduces a brass pinion and brass main gear, upgrading from the aluminum main gear in the smaller sizes. 
Again, this is a sign that Penn wants to inject a huge amount of strength and durability into these reels to be able to withstand fights from feisty game fish. 
The body and side plate of the reel are all-metal, and made of aluminum for extra durability. The handle is stainless steel for strength and corrosion resistance. 
This double-metal duo makes the reel feel so sturdy in your hand. 
In perfect synergy with the reel's construction, the Penn Battle rod exhibits a graphite composite blank that complements the reel's sturdiness. 
This rod blank not only matches the reel's strength but also offers excellent sensitivity, a crucial aspect in detecting subtle bites and ensuring successful hook sets. 
The two-piece design further enhances convenience, making it easy to transport and store. 
The Penn Battle 3 combo is one solid piece of kit. 
Penn has done it again, making a good-value absolutely bullet-proof product in terms of its construction.
One drawback though, which you can't come to expect on reels in this price range, is the lack of saltwater sealing. 
I'd avoid heavy water exposure and especially submerging the reel at all. 
Penn Battle 3 Rod and Reel Combo Review Summary
The Penn Battle 3 combo sets the bar high for surf spinning setups at this price range. 
Its rugged all-metal construction and precision CNC gearing ensure unwavering performance and durability, while the graphite composite rod blank adds sensitivity to your arsenal. 
When it comes to saltwater fishing, the Penn Battle 3 combo is a tool trusted by many that won't let you down.