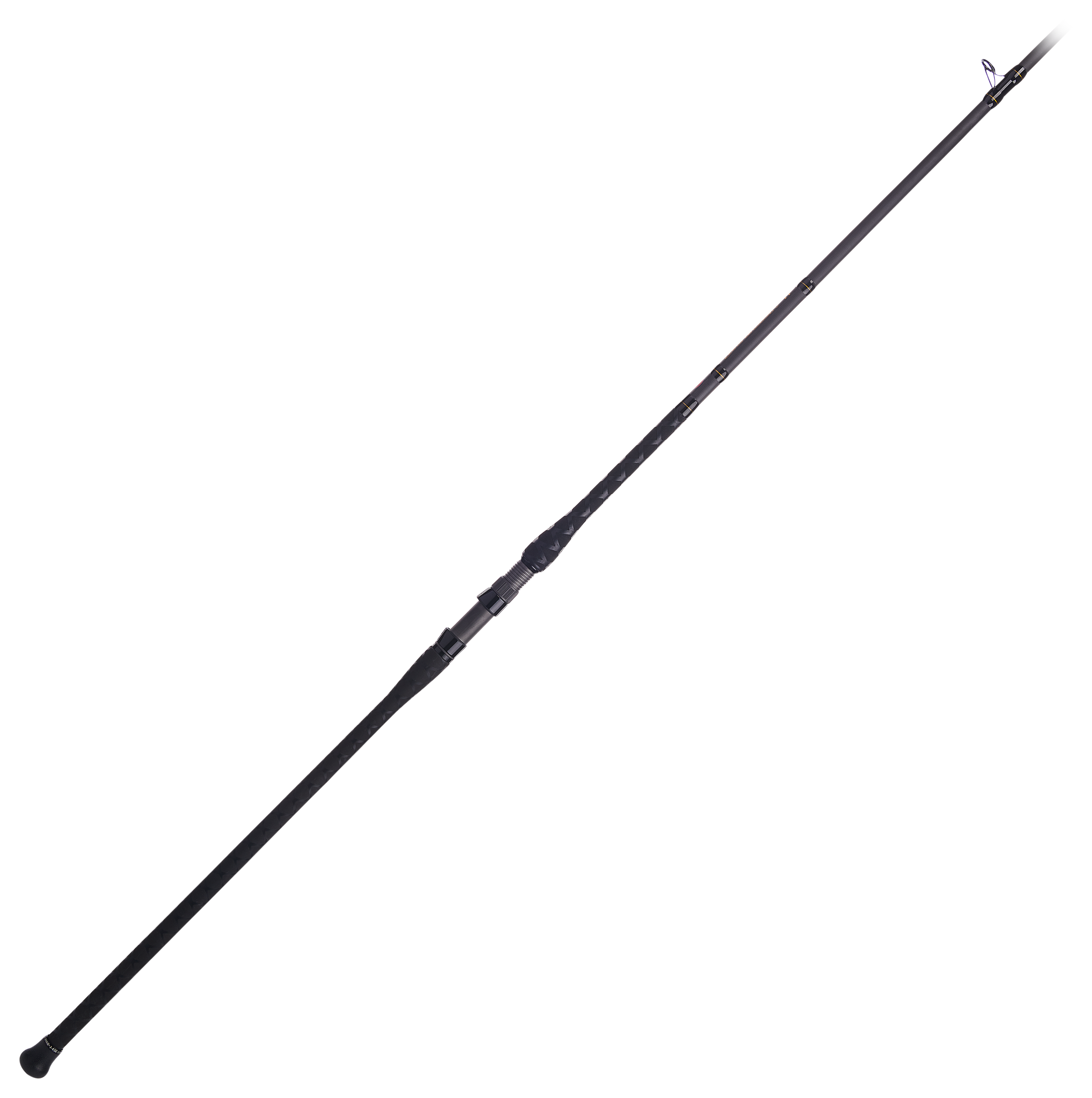 ---
Considering the Penn Battalion 2 as your next surf rod?
Well, join the thousands of other serious surf anglers that have put their hard-earned cash behind the Penn brand with this top-value surf rod.
Let's have a look at the reasons why you should purchase this surf rod in this Penn Battalion 2 surf rod review.
Let's dive in!
Who should invest in the Penn Battalion 2 Surf rod?
The Penn Battalion 2 surf rod stands out as a top pick for both experienced anglers and newcomers looking to elevate their surf fishing game. 
With a price tag under $150, it's a very decent investment that offers impressive performance. 
Penn's esteemed reputation in the surf fishing arena is upheld by the Battalion 2.
Designed to complement Penn Battle 3 reels, this rod is a perfect match for those who already own this reel. 
The combination of composite graphite and fiberglass in the blank, featuring SLC 2 construction, sets this rod apart with its robust power and backbone, ideal for surf fishing challenges.
The Battalion 2's durability is enhanced by its Fuji Alconite guides with ceramic inserts, designed to withstand the pressure of braided lines. 
Sometimes you see braided lines creating grooves and damaging cheaper rod guides, but Penn has tried to remove this issue with this feature. 
The Battalion's longevity is a testament to its quality. 
I like the shrink tube handle they have on it, offering a secure grip even when wet, so you remain in control during intense casting and retrieving moments and don't slip up and risk losing a fish… or your rod!
The Penn Battalion 2 surf rod really does excel in durability, sensitivity, and adaptability, making it a must-have for saltwater enthusiasts. 
Whether you're chasing blues or seeking other saltwater thrills, this rod proves its worth as a reliable companion for years to come, and you're backed by Penn's years of pedigree in the saltwater fishing arena.
Penn Battalion 2 rod Specs
Lengths available: 8-12ft
Pieces: 2 pieces
Power range: Medium to Heavy
Action range: All moderate fast
Guides: Fuji® Alconite Guides
Reel seat: Fuji® Reel Seat
Blank material: Graphite composite
Check out our list of the 11 best rods for surf fishing here.
Penn Battalion 2 surf Rod Pros
Durability: 
Anglers consistently report using the Penn Battalion 2 for 5-6 years without experiencing significant wear or any decline in performance.
This shows its remarkable ability to endure extended fishing expeditions and tough conditions.
Reliable for Saltwater Fishing: 
Penn's dedication to crafting quality gear tailored for saltwater fishing is definitely displayed in the Battalion 2 Surf Rod. 
Penn makes tough, high-performing gear, and the Battalion is now different. Can you tell I'm a Penn fan?
High Sensitivity: 
Thanks to the higher graphite ratio in the rod blank, the Penn Battalion 2 maintains its lightweight structure while offering exceptional sensitivity. 
This heightened sensitivity empowers you to easily detect even the most subtle bites, enhancing your chances of reeling in your desired catch.
Well-Balanced Flexibility: 
The strategic design of the rod's backbone guarantees that it flexes precisely where needed, striking a really decent balance between flexibility and strength. 
This balanced flexibility directly translates to improved control during your casting and battling with fish, enhancing your overall angling capabilities.
Penn Battalion 2 Surf Rod Cons
Avoiding 'High Sticking': 
While using the Battalion rod, it's important to avoid 'high sticking,' as improper use can lead to damage. 
Some instances have revealed that Battalions can become weakened due to this misuse, highlighting the significance of using proper angling techniques.
50/50 Blank Split: 
The rod blank is divided into a 50/50 split, whereas a 70/30 split could potentially enhance performance. 
With the current 50/50 design, it's essential to closely monitor the alignment of the rod pieces, especially during vigorous lure fishing sessions. 
This ensures optimal functionality and prevents any disruptions in your fishing experience.
Penn Battalion 2 Surf Rod Performance
The Penn Battalion 2 Surf Rod is your go-to choice for surf fishing, giving you a dependable and versatile performance that stands out in the field.
Lots of anglers have reported the Battalion 2's remarkable durability, with years of use showcasing its ability to withstand the rigors of saltwater environments.
Crafted with a higher graphite ratio, you can really feel this rod's lightweight profile while providing exceptional sensitivity. 
This heightened sensitivity helps you detect even the subtlest bites, improving your catch success.
Designed for a balanced blend of flexibility and strength, the Battalion 2 offers improved control during casting and battles with fish.
Ultimately, for a rod that costs less than 150 bucks at the time of writing, I think the Penn Battalion 2 Surf Rod gives you a ton of durability, sensitivity, and control.
Penn Battalion 2 Surf Rod Construction
Penn's innovative design here combines composite graphite and fiberglass in the blank, employing SLC 2 construction with dual layers of graphite/carbon. 
You can see how this fusion results in a robust and powerful rod, offering both backbone and flexibility for tackling the challenges of surf fishing.
Enhanced further by the presence of Fuji Alconite guides with ceramic inserts, this rod is well-equipped to handle the pressure exerted by braided lines, ensuring both longevity and efficient line management. 
The 24-tonne low resin carbon blank material and the strategic arrangement of components make the Battalion 2 a standout choice for anglers.
If you're seeking a surf rod that delivers exceptional strength and responsiveness in various fishing scenarios, the Penn Battalion 2 has you covered. 
Penn Battalion 2 Surf rod Summary
If you have 150 bucks to drop on a surf rod and you can't extend that budget, don't worry.
The Penn Battalion 2 Surf rod in this review is a quality choice and it's doubtful you'll regret your choice.
If you want to catch some decent fighting fish and want a rod capable of handling multiple applications, this is a great option to put your money on.