I almost stopped looking for any new rod and reel combos when I came across the Daiwa BG rod and reel combo.
You get a ton of value in just the reel alone, and Daiwa has made it so easy to get a high-performing fishing system in this rod and reel combo. 
If you're tired of searching and seeking out the perfect match of rod and reel, and just want to make a quick and easy choice – here it is. 
The Daiwa BG combo in this review stood out as one of the best surf fishing rod and reel combos available today – read our round-up article here. 
---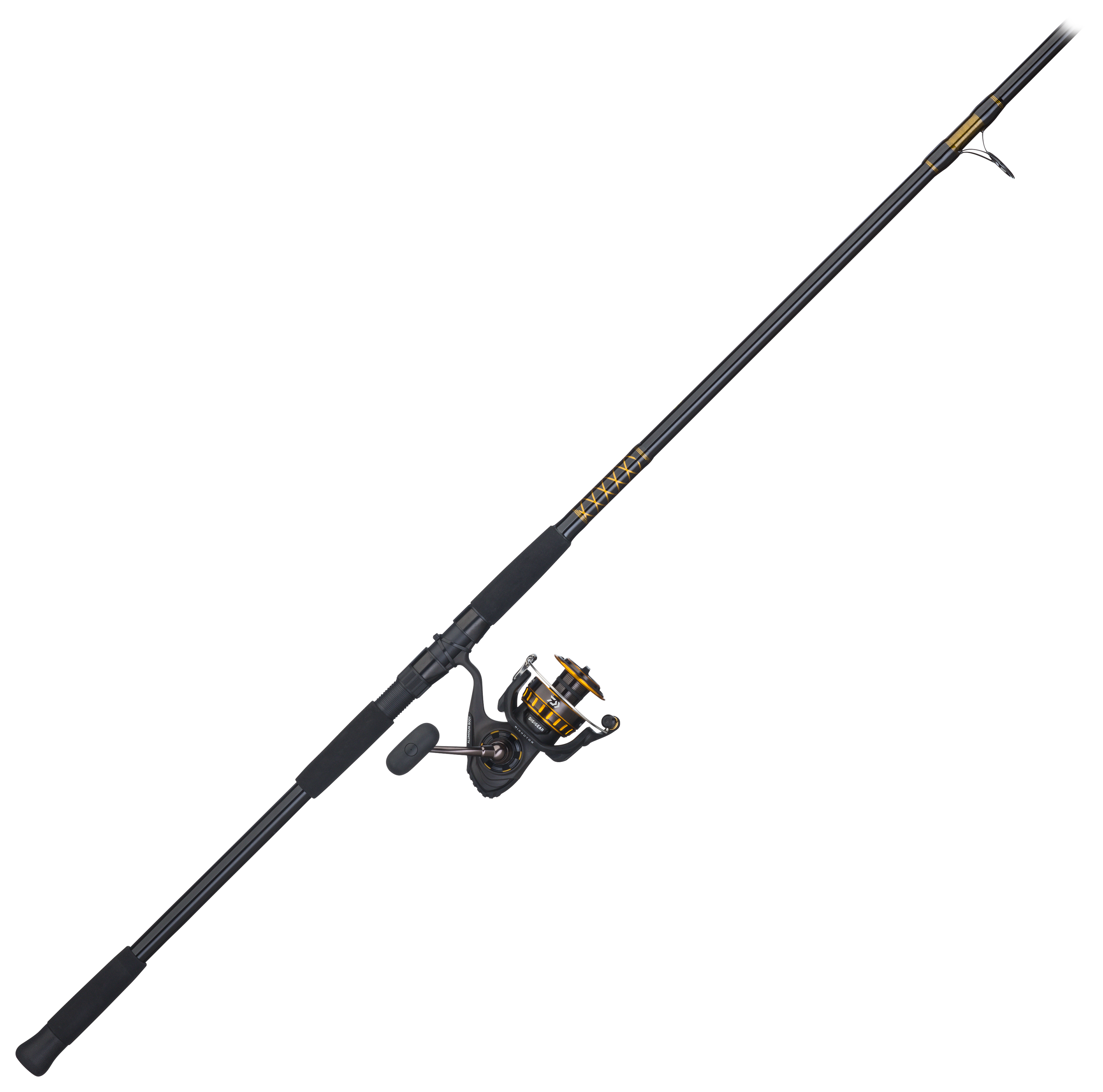 ---
Who should invest in the Daiwa BG Combo?
For saltwater anglers seeking reliable power and performance, the Daiwa BG spinning combo is your go-to choice. 
Designed to handle challenging swells and tough fights, this combo pairs a robust Daiwa BG reel with a responsive BG rod. 
I love the Daiwa BG reel. The first time I turned the handle I was pretty shocked at how damn smooth this thing is for the money. 
Ideal for those who want effective gear without breaking the bank, this combo is tailored for conquering the surf and reeling in success.
The Daiwa BG is a very special reel and one not to sniff at – you get SO much for your money. 
Whether you're tossing heavy lures or using live bait to target species like redfish, snook, or striped bass, this setup stands ready.
Ideal for navigating challenging swells and wrestling feisty fish away from coastal structures, the Daiwa BG combo guarantees a thrilling fight every time. 
These combos and BG reels are frequently found in the quiver of rods on fishing charter boats because they are so brilliant.
If you're serious about dominating the saltwater scene and landing prized catches, this combo is tailored to your ambitions.
Daiwa BG Combo Specs
Daiwa BG reel
Best for: saltwater anglers that need a decent whack of power behind the reel to help horse in fish through the swell.
Sizes: 10 sizes. 1500 – 5000, 6500, 8000.
Drag: 17.6lbs max drag on a 4000 size
Line capacity: 280yds/30lb braid OR 200yds/40lb on the 4000 size
Weight: 14.3 oz on the 4000 size
Bearings: 7
Gear ratio: 5.6:1
Handle side: Interchangeable right and left
Daiwa BG rod: 
Lengths available: 8f-10ft
Pieces: 2-pieces 
Power range: Medium to Medium-Heavy
Guides: Aluminum Oxide Cut proof guides
Blank material: Graphite and carbon composite
Click here to read our roundup of the best surf fishing rod and reel combos.
Daiwa BG Combo Pros
Powerful Reel: 
The reel is truly a strong reel. The Daiwa BG makes it easy to pull fish away from rocks or through rough waves to land them safely. When those Digigears engage within the solid body, you can feel the immense control you have in your hand. 
Responsive Rod Action: 
The rod moves quickly, helping you cast lightweight lures exactly where the fish are. You get lots of precision with this rod even though a combo and the reel spool design complements the action to help you cast out further to hard-to-reach spots.
Massive Line Capacity: 
For a reel that isn't a high-speed model, I found the Daiwa BG to be super-fast. 
The reel can hold a lot of fishing line and retrieve it fast, letting you cover more area and catch distant fish efficiently. This means your bait or lure is on the water for longer, maximizing the time you have to fish. 
Good Value: 
This combo offers great performance for its price, giving you a lot of fishing power without spending too much money. 
Seriously, this is such good value – if you come across one and you're not going to be getting it too wet then don't hesitate to pick it up.
Daiwa BG Combo Cons
Not Fully Sealed: 
Unlike the Spinfisher VI, the Daiwa BG combo isn't as protected from tough conditions. 
This might affect its long-term strength, especially in places with saltwater and sand. While it's strong, it might not handle extreme conditions as well as the Spinfisher VI.
The drag is sealed which is definitely a great addition, but the body is not. 
Limited Model Range: 
The Daiwa BG combo comes in three sizes for surf fishing, from 8 to 10 feet. 
This range is helpful, but if you're looking for more specific lengths, it might not cover all your needs. 
Guide Issues: 
Some experienced users have mentioned that the guides on the rod could break or come loose. 
This matters because the guides help the line move smoothly. 
Keep an eye on them while you're fishing, as any guide problems could mess up your casts and make fishing less enjoyable. 
Checking and taking care of the guides regularly can prevent unexpected troubles during your fishing trips.
Daiwa BG Combo Performance
When I first get my hands on combo reels, I like giving reels the good old "one-power-crank-and-release-test" (unofficial name ha), to see how well the gears handle the power rotation and how effectively and for how long they glide together smoothly.
I compared the Daiwa BG, the Penn Battle 3, and the Spinfisher VI together and the Daiwa BG is markedly smoother with much less resistance than the Battle 3 or Spinfisher 3.
After a bit of usage, the Penn reels become a bit smoother, but the Daiwa BG just continues to be as smooth as anything.
Daiwa has created an absolute beast of a reel here that "pinches" a bunch of tech from much higher-range reels to maximize its performance.
The Daiwa BG surf spinning combo is built tough for the unique challenges of surf fishing. 
The reel's strength gives you an upper hand in controlling fish fights. 
When you're battling against strong waves and structures, the reel's power comes into play. It helps you steer prized catches away from rocky spots or safely through the rough surf. 
But the combo doesn't stop there – the rod is designed to match. 
It moves quickly and precisely, allowing you to cast lightweight lures right where the fish gather. 
Whether you're aiming for redfish, snook, or striped bass, this combo has your back.
And when it comes to bait, this combo proves its versatility. 
Whether you're using live bait on the live liner options or chunking or cutting bait, you'll find that this setup works smoothly. 
It's not just about strength – it's about precision too. You can target specific saltwater species with confidence. 
The reel's power helps you handle big fish, while the rod's quick action lets you cast accurately. 
So whether you're casting lures or using bait, the Daiwa BG combo is your trusty partner for a successful saltwater fishing adventure.
Daiwa BG Combo Construction
The construction and engineering of the Daiwa BG rod and reel combo are truly remarkable, especially considering its price point. 
This combo showcases impressive features that are hard to overlook.
The reel's stem and body are crafted from solid anodized aluminum, ensuring strength without compromising weight. 
The combination of strong, stable brass pinion gears that engage seamlessly with the main gear's deep teeth guarantees a solid grip, preventing slippage during intense battles with sizeable fish. 
The robustness extends further with the use of deep, thick Digigears that are precision-cut from aluminum.
Surprisingly, the anti-reverse clutch is made of metal, a noteworthy detail considering the prevalence of plastic components in similar products. This choice adds to the overall sturdiness of the combo. 
The ball bearings, as mentioned, are of premium high-grade quality, ensuring smooth operation and durability. 
The bail arm, although plastic, stands strong under pressure, and the rotor's arched design, a feature imitated by many, enhances stability and resilience even during the reel's most challenging moments.
The reel's construction complements the rod's features seamlessly. 
This cohesive design means that when you're casting with precision using the rod's fast action, the reel's robust construction ensures that the gear engagement remains solid. 
The combination of the reel's metal anti-reverse clutch and high-grade ball bearings enhances your control during both casting and retrieving. 
This comprehensive engineering and construction make the Daiwa BG rod and reel combo a reliable choice that's ready to handle the demands of your angling adventures.
Daiwa BG Rod and Reel Combo Review Summary
Whether you're tackling rocky spots or targeting saltwater species like redfish, snook, or striped bass, the Daiwa BG combo's engineering suits your needs.
Hopefully, I've shown you in this review of the Daiwa BG combo that The Daiwa BG combo has you covered as a top-value combo on the market today.
So, don't miss out—discover the prowess of the Daiwa BG combo for your surf fishing endeavors.