When you're investing thousands of dollars into a new kayak, you want to make sure you're putting your money into a good company and reliable brand. 
A lot of reviews look at specific models of kayaks to compare them, but what about all the extra factors around the purchase, like customer service, returns, issues other kayakers have had, design heritage and expertise, resale value, and more. 
This article is a comprehensive head-to-head comparison between Hobie and Old Town kayaks to better inform you in making the right purchase of a new kayak.
A brief history of Hobie and Old Town Kayaks 
History of Hobie kayaks
Hobie Cat, as the company that makes the world-famous kayaks is named, was founded in 1950. The company has an impressive 70+ year-long pedigree of making a variety of different sports crafts.  
The brand originally made hand-carved surfboards and then expanded into many other watersports, including sailboats, kayaks, paddleboards, and leisure boats too.
Hobie made its first kayak in 1986 – the Hobie Pursuit kayak, a touring kayak made from rotomolded polyethylene.
Hobie has continued to innovate all through their journey as a brand, and they bring a huge amount of expertise and experience in designing some of the best kayaks on the market today.
History of Old Town Kayaks 
Old Town as a brand goes way back beyond Hobie. The company was founded as a canoe manufacturer in 1898 and is one of the world's most popular and largest canoe and kayak brands. 
What does this mean? Over a century of research and development and innovation to continuously improve their canoes and kayaks.
Old Town created its first kayak in 1995, one year ahead of the game of Hobie.
So you know you are getting a build quality and boat-building heritage unrivaled by other kayak manufacturers.
Hobie and Old Town Heritage: Verdict
Both brands have a fiercely loyal customer base that continues to return to them for high-quality kayak production. 
However, in terms of legacy and experience in boat and kayak manufacturing, Old Town wins out as the original against Hobie here.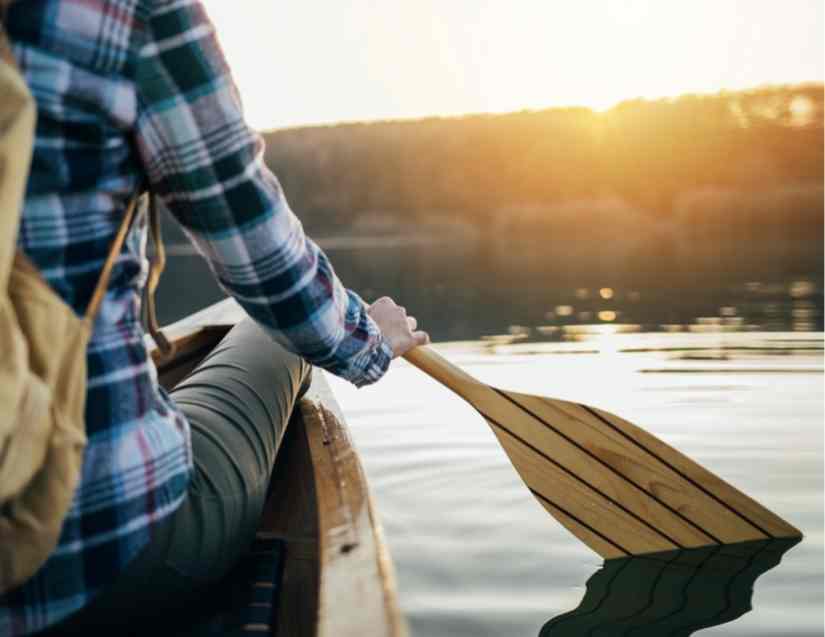 The top advantages and disadvantages of Hobie vs Old Town
Hobie vs Old Town: Price 
Both Hobie and Old Town kayaks are at the upper price range in the market. But given the investment into research and development of their models and technology, it's clear to see why they can command a higher price. 
However, Hobie's prices can be considerably higher than seemingly similar Old Town models. This is why these two brands often battle it out in people's decision-making about what kayak to get.
Across the two brands, Hobie has pioneered a great deal of technology, particularly the pedal drive system it uses to propel its pedal kayaks, and the fins that make the system unique. 
But, despite Hobie leading the way in terms of innovation, Old Town is never that far behind in responding with its latest models. 
Hobie vs Old Town: Resale value
Because of Hobie's reputation and quality build its kayaks also reach a good resale value on the market. Many kayakers have claimed to get great value from selling their Hobie's when upgrading to a new model. Apparently, they sell pretty quickly too.
So think of purchasing a Hobie as an investment – on the journey to becoming a seasoned kayak owner.
Old Town kayaks are popular second-hand items too, given the popularity of the brand, but are less of an investment up front and sell for less on the second-hand market than a Hobie kayak might.
Durability of Hobie and Old Town kayaks
These two brands make high-quality, high-priced kayaks, so you'd hope they would be exceptionally durable.
And thankfully, that's the case. 
Multiple kayakers on Hobie and Old Town forums report owning and using these kayaks for 10 years or more. And using them regularly, in challenging conditions like the ocean and fast-moving rivers. 
Some Hobie kayak owners have reported some issues with cracks in the hull of the kayaks, or the drive system having issues such as stripping the drive, or the actual drive system itself popping out because of a failure of the pins that help adjust the drive in the kayak.
However, these issues are likely very rare, and a small percentage of the thousands of happy Hobie kayak owners that have never had an issue. It's always the ones who have an issue that you hear or see loudly online, so take these incidents with a pinch of salt.
Hobie vs Old Town kayaks: Pedal Drive System
Hobie pioneered pedal-powered kayaks back in 1997 and has continued to improve every iteration. 
Hobie's Mirage 180 apparently provides more power than a propeller through its custom-designed fins. These fins also allow the kayaker to pedal in reverse, however, the pedaler needs to pull a lever to do so, requiring a free hand. 
Hobie's patented flipper system also has a 'kick-up' feature 
Old Town uses a propeller system for its pedal drive. Many claim it to be incredibly smooth in transitioning from forward to reverse. 
Unlike the Hobie drive system, you can pedal backward to go in reverse without needing to switch any levers or cables around, leaving hands free for landing fish! 
Accessories available with Hobies and Old Town kayaks
Hobie kayaks offer an extensive range of branded accessories designed specifically to complement their kayaks. You can find pretty much anything you might need.
When you purchase a new Hobie kayak, you can customize your new boat with accessories to match your needs, whether pleasure-paddling or fishing from your kayak. 
The Hobie accessories do come at a cost though. Looking at popular kayaking forums you can see that some customers find the accessories on the pricey side, especially after having spent the cost of a new Hobie kayak in the first place.
Old Town recommends accessories of their own branding and that of other companies. On their website, you'll find a good selection of kayaking accessories. 
Old Town has partnered with some reputable equipment manufacturers and the prices of their accessories are said to be reasonable.
Hobie vs Old Town kayaks: Warranty
When you're investing thousands of dollars into a kayak, you want to know that you'll have some cover in case something goes wrong. 
Hobie and Old Town both offer warranties for their kayaks but there are some interesting differences between the types and lengths of warranty that each brand offers. 
Hobie changed their warranty policy for their 2019 models, offering a 3-year warranty on all kayak models. Previously for older models, there is a 2-year warranty.
Wondering what the caveats are? Here's the policy wording from Hobie's website:
"The Warranty does not cover normal wear and tear, improper storage, or running into stuff. The Warranty covers defects in the materials, manufacturing, and design."
Old Town is pretty generous with its warranty cover for its kayaks. They offer a lifetime warranty for the deck and the hull of all Old Town models.
Also, Old Town provides a 5-year warranty for any defects or issues arising on their pedal system and a 2-year warranty for the Minn Kota motor supplied with their motorized kayaks.
Old Town's impressive warranty is often highlighted on kayaking forums as a reason to go with an Old Town kayak when comparing it to a similar Hobie model. 
Hobie vs Old Town: Customer service, shipping and returns
Hobie
Hobie operates through individual dealers, so you'll need to use their website locator to find a US store near you, and each store may have its own shipping and returns policy. 
We tried to find contact details for Hobie, and after searching their website for a long time, and being linked to manuals or forums to try to find customer support, we finally found an online form. 
Unfortunately, when we used the form to ask an example question about whether it's ok to stack Hobie kayaks to see what the response would be, we never received a reply. 
It seems you might be best approaching the individual dealer you purchased your Hobie from for any support queries. 
Old Town
Old Town states that it will ship kayaks within 3 days and that expedited shipping is not available for its kayaks. But they do not ship to Alaska or Hawaii.
The shipping cost varies between $100-$150 dependent on the length of the kayak – the longer, the more expensive.
The three shipping bands are:
< 10' 6" – $100
< 10' 7" – 11' 11" – $125
12'+ – $150
Old Town allows returns of its kayaks but they cannot be used in any way nor the packaging or labels disturbed or removed. Returning a kayak involves a 15% fee, and also you have to cover the shipping costs for the return.
We reached out to Old Town customer support with the same question we asked Hobie about stacking kayaks on a Friday, Old Town responded right away on the Monday with a concise and helpful answer. 
You can find Old Town's customer support contact details easily in the footer of their website.
Most popular Hobie kayak models
For Hobie, it seems the Mirage Outback or the Mirage Pro Angler are very popular kayaks in the market today. These kayaks are particularly suited for fishing and are very stable and comfortable kayaks.
Most popular Old Town kayak models
The Sportsman and Topwater models are very popular with kayakers around the world, again making excellent fishing kayaks and stable platforms for casting and reeling in catches. 
Where are Hobie and Old Town kayaks made?
Both Hobie and Old Town kayaks are made in the U.S. 
Old Town is manufactured in Maine, U.S. 
Hobie kayaks are manufactured in California, U.S.
Hobie vs Old Town Kayaks summary. 
To be honest, you can't really go wrong with either brand of the kayak. The comparison is pretty close between the two. Not necessarily because they produce the same kayaks but because each has compelling reasons to choose them. 
Ultimately the decision comes down to what you value the most in the kayak that you need and of course your budget. 
Hopefully, we've given a comprehensive rundown of Hobie vs Old Town kayaks to help you make a more informed decision about which brands to explore further.
5 Must-know Surf Fishing 'Secrets' that lead to more hook-ups.
Free Guide to catch more fish – without spending money on gear!
Simple habits to hook up more fish
Quick and easy to implement on your next fishing trip
Don't pay any more money on gear.
Just ENTER YOUR EMAIL ADDRESS BELOW, and get the FREE resource, NOW!
Sources
https://www.reddit.com/r/kayakfishing/comments/j1zc0v/hobie_compass_180_drive_vs_old_town_topwater_pdl/
https://www.stripersonline.com/surftalk/topic/778819-anybody-prefer-a-kayak-other-than-a-hobie/
https://www.hobie.com/forums/viewtopic.php?t=54222
https://www.hobie.com/about-us/