Wondering whether the Tsunami Airwave is a good option for a surf rod? 
Well, join the thousands of other anglers who have chosen the Tsunami Airwave to help them haul in prize fish like sharks, striped bass, hefty redfish, or king mackerel from the surf. 
At such a low price point for the performance, you can't really go wrong.
This rod took the spot for the best surf rod for sharks in this article.
This is a durable, high-performance, strong, and sensitive rod perfect for surf, rock, and pier fishing applications. 
---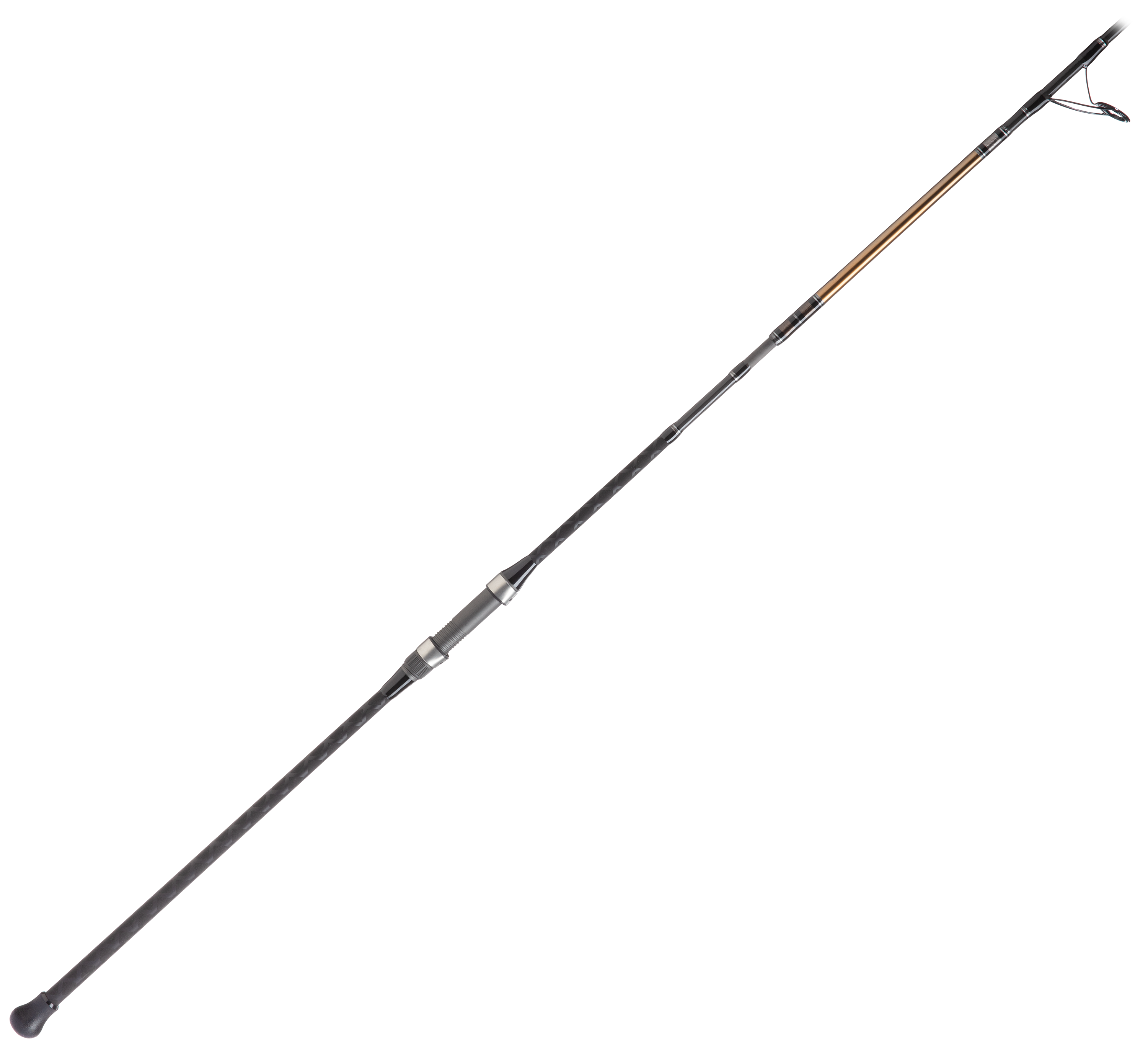 ---
Who should invest in the Tsunami AirWave Surf rod?
The Tsunami Airwave Elite Surf Rod is an absolute gem for anglers with a passion for shark fishing along the coastal waters. 
Whether you're a seasoned pro or a beginner watching your budget, this rod's remarkable strength and leverage are designed to tackle the mightiest of sharks, giving you the upper hand in those thrilling battles.
Its exceptional casting ability is a huge plus when you're out in the open water. 
However, if your sights are set on larger sharks dwelling in the deeper waters, it's worth considering alternative options to maximize your casting reach.
But that's not all – the Tsunami Airwave Elite also extends its prowess to a variety of other surf fishing species. 
The smaller models of this rod are equally adept at handling species like striper, redfish, pompano, and snook. 
So, whether you're battling a powerful shark or aiming for the exciting catch of these other species, the Airwave Elite's lightweight design and sturdy Fuji components provide a reliable and comfortable experience. 
Whether you're casting from the beach or a pier, this rod's blend of power, casting distance, and durability make it an excellent choice for budget-conscious surf anglers seeking diverse adventures.
Tsunami AirWave rod Specs
Lengths available: 8ft – 12ft
Pieces: 2-pieces
Power range: Medium to extra-Heavy
Action range: Fast
Guides: Fuji K-series Alconite guides
Reel seat: Fuji Graphite and stainless steel
Blank material: High fiber with high-density construction.
Check out the list of best surf rods to buy now, that the Tsunami Airwave appeared on.
Tsunami AirWaveSurf Rod Pros
Really strong: Perfect for catching sharks because it has a strong core in the rod that helps you control the fight, and you can cast really far thanks to how the rod is made.
Not too heavy: The rod's lightweight design, made with special technology, keeps you from getting too tired while battling those big sharks.
Built to last: The Fuji guides and reel seat make you feel confident that the rod won't let you down when you're reeling in a big shark. The guides are wrapped tightly for extra strength.
Great value: The Tsunami Airwave doesn't cost a lot, especially considering how good it is for catching sharks.
Easy to hold: The handle and reel seat by Fuji feel comfy in your hands and help you keep a good grip on the rod.
Tsunami AirWave Surf Rod Cons
If you choose a size smaller than 10ft, it's best to avoid pier fishing in strong currents because the rod's power might have difficulty handling it.
Although it casts well considering its cost, it doesn't cast as far as more expensive rods or custom rods designed specifically for shark fishing. 
If you're aiming for very big sharks in deep waters, you might consider something like the Shimano Terez instead.
Tsunami AirWave Surf Rod Performance
When it comes to shark fishing, the Tsunami Airwave Elite Surf Rod stands out as a top choice.
This rod has earned its spot on the best shark surf rod list for several good reasons. Seasoned anglers often recommend it due to its exceptional features. 
What's great about this rod is its versatility – it suits both beginners on a budget and experienced anglers looking for a reliable beach fishing option. 
Whether you're targeting smaller or larger sharks, the range of sizes and versatility of the Airwave Elite makes it a perfect fit.
The Tsunami Airwave Elite is especially renowned for its effectiveness in shark fishing, particularly the 10ft medium-heavy and heavy options. 
Despite its powerful backbone, this rod is surprisingly lightweight, which means you won't tire easily when casting and fighting those big sharks. 
The rod's ability to cast heavy baits a considerable distance is impressive, thanks to its fast action and sturdy construction. 
Additionally, its high-quality components, such as the Fuji guides and reel seat, enhance its durability and reliability. 
The Tsunami Airwave Elite Surf Rod strikes a balance between power, distance casting, and comfort, making it an ideal choice for those seeking a budget-friendly yet effective shark fishing experience.
Tsunami AirWave Surf Rod Construction
The Tsunami Airwave Elite Surf Rod boasts a well-thought-out construction that brings multiple benefits to your fishing. 
Crafted from 24-tonne low resin carbon, the rod's blank is designed to be both robust and lightweight, ensuring you have the power needed to take on formidable fish without feeling weighed down during the battle. 
Getting tired from casting or battling fish can end your fishing trip pretty abruptly, so I tend to choose rods that I can use easily and that won't tire me out.
This unique blend of strength and lightness is made possible by advanced nanotechnology.
Additionally, the rod features stainless steel SeaGuides with zirconium inserts as guides and a reliable reel seat from Fuji, offering enhanced durability and stability. 
The wraps around the guides are solid, ensuring longevity even in the face of challenging fishing conditions that you might put the rod to.
This construction gives the rod ability to cast hefty baits over considerable distances and also guarantees you a secure grip and comfortable control. 
Whether you're a seasoned angler chasing sharks or various other surf species, the Tsunami Airwave Elite Surf Rod's well-engineered construction provides the backbone and reliability you need for successful and enjoyable fishing adventures.
Tsunami AirWave Surf Rod Summary
So if you are looking for a rod that will help you pull in large fish like sharks, then the light yet super strong Tsunami Airwave will help you do that. 
There is nothing quite like the feeling of landing a big fish you are proud of getting to the beach and the Tsunami Airwave is a great-value option for doing just that.