Okay, it's Taiwan vs Japan here with the next installment of reel brand comparison articles – Okuma vs Penn.
I've fished with both of these reel brands so have considerable experience to draw on, and we'll be reviewing the general consensus of much more expert anglers than me out there.
This is a detailed look at each brand to compare them in a head to head – Okuma up against Shimano.
Ultimately, we write these to gove you, the reader, some more background into each reel brand and what you can expect in terms of their reputation overall.
Personally, I think Shimano beats out Okuma overall here on most aspects due to the brand's reputation in design, manufacture and innovation – but there are some die-hard Okuma fans out there that I know would disagree with me!
Want to see how Shimano compared to other reel brands? Check out these articles comparing Shimano against Daiwa, Shimano against Penn, and vs Abu Garcia brands.
Okuma vs Shimano Reel Comparisons
When comparing Shimano and Okuma fishing reels, several factors come into play.
Both brands offer various types of fishing reels but for this comparison, we will focus on spinning reels in this article because that is what I use.
Shimano Reels
As I mentioned, Shimano has long enjoyed a high status and excellent reputation in the world of fishing reels.
They are known for producing some of the best fishing reels in the industry and are commonly found in most anglers' tackle boxes.
With their high performance and consistent introduction of new technology, Shimano reels often come with a higher price tag than Okuma reels.
Shimano reels are designed for precision and smoothness, making them an excellent choice for various types of fishing, from freshwater to saltwater.
Okuma Reels
While Okuma reels have been considered as less quality compared to Shimano in the past, recent years have seen the company up its game, producing very decent reels.
They are now known for their robust build, decent cast, and smoothness, offering great value for money.
The Okuma Ceymar for example has become incredibly popular. As a series of reel it may not be as sensitive or offer the same retrieve rate as the Shimano Baitrunner, but it still provides a solid choice for anglers looking for a reliable reel.
Okuma reels are designed for versatility and can be a viable option for those on a budget or just starting their fishing journey.
For example, I own an old Distance Carp reel (a DC-60, I think it is), and it's been used for carp, for surf fishing, pier fishing… all sorts.
It's been through tough conditions, it's full of sand, was bought in 2009-11 (?), and I still take it to the beach as a backup long-distance reel.
Here it is, for proof…
Spinning Reel and Baitcaster Differences
I don't have any experience with baitcasters, but both Shimano and Okuma offer a range of spinning reels and baitcasters to suit various skill levels and preferences.
Okuma vs Shimano Performance and Durability
Drag Systems
Both Okuma and Shimano reels offer impressive drag systems.
Shimano's drag technology is known to provide a smooth and consistent drag pressure, while Okuma's drag system focuses on power and ease of adjustment.
Some anglers prefer Shimano's drag system for its precision, while others enjoy Okuma's user-friendly approach.
Bearing System
When it comes to the bearing system, Okuma and Shimano provide high-quality ball bearings in their reels for smooth performance.
Shimano is famous for their shielded stainless steel bearings, while Okuma has a reputation for corrosion-resistant stainless steel bearings.
Depending on the specific reel models, both brands offer varying numbers of bearings for improved performance.
Smoothness and Sensitivity
Smoothness and sensitivity are essential factors for any fishing reel. Shimano excels in this area, with their reels being praised for their smooth operation and fine-tuned sensitivity.
Okuma also offers smooth and sensitive reels, but some anglers feel they don't quite match the level of Shimano's performance in this regard.
Material and Construction
Both Okuma and Shimano prioritize quality materials and construction in their reels.
Shimano uses materials like Hagane cold-forged gears for durability and lightweight CI4+ carbon composite material in some reel models.
Okuma, on the other hand, uses materials like aluminum and graphite for their reel construction, focusing on strength and corrosion resistance.
Gear Ratio and Retrieve Rate
Gear ratio and retrieve rate are crucial for the overall performance of the reel.
Shimano boasts various gear ratios for their reels, allowing anglers to find an ideal model for different fishing situations.
Okuma also offers multiple gear ratios, but some anglers prefer Shimano's wider selection.
Long-Term Durability
Long-term durability is where both brands shine.
Shimano has a reputation for producing long-lasting, high-performance reels, and their durability is often mentioned by anglers.
Okuma, while generally more affordable, also manufactures durable reels known to withstand the test of time.
As I mentioned above, the Okuma Carp reel I have has been a tank, lasting 10+ yrs of service!
Ultimately, choosing between these brands often comes down to personal preference and budget.
Okuma and Shimano Popular Models
The Shimano Stradic is a highly popular model among anglers. This reel is known for its smooth performance and lightweight build.
Features such as Hagane gearing and X-Ship technology provide a smooth, powerful, and durable experience.
The Stradic is available in multiple sizes, accommodating different fishing styles and techniques.
Shimano Ultegra ci4
Another popular choice from Shimano is the Ultegra ci4. This reel boasts a lightweight carbon body and a high-quality build. It makes use of advanced technologies like the G-Free Body for a comfortable feel and reduced fatigue during long fishing sessions. The Ultegra ci4 is an excellent option for those looking for a reliable reel with reduced weight.
The Okuma Cedros fishing reel showcases quality craftsmanship and design as well. Its high-speed gear ratio and dual force drag system make it a strong contender in the market. The Cedros also boasts an anti-reverse system to ensure smooth retrieves and prevent line slippage. This reel meets the needs of anglers both in saltwater and freshwater.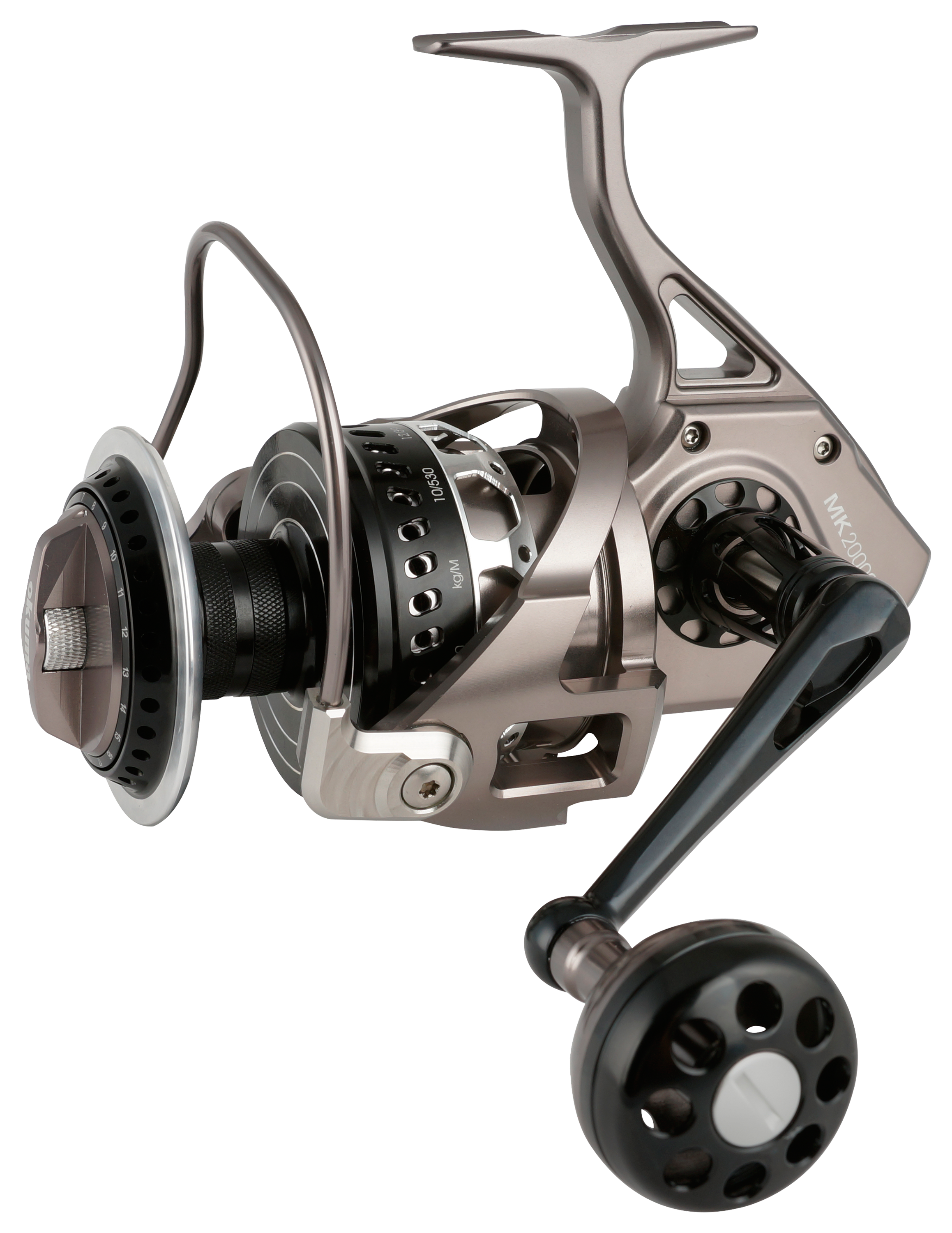 The Okuma Makaira is highly sought after for its powerful performance and resilience. Designed for big game fishing, the Makaira features 17-4 grade stainless steel helical cut gears and the patented T-Bar handle for maximum comfort and leverage.
A top choice among professional anglers, the Makaira is built for the toughest battles with the biggest fish.
In summary, these popular models from Shimano and Okuma offer anglers a variety of options to suit their fishing needs.
Both the Stradic and the Ultegra ci4 represent the best of Shimano's technological innovations, while the Cedros and Makaira showcase Okuma's commitment to quality and performance.
Okuma vs Shimano Buyer Considerations
Budget and Value
When comparing Okuma and Shimano fishing reels, budget is of course a significant factor.
Okuma is often considered the more affordable option, making it an attractive budget choice for beginners and those with a limited budget.
My Distance Carp reel was a steal – remember it not costing much at all.
However, it is essential not to focus solely on the price, as value encompasses not only the upfront cost but also the reel's performance, durability, and longevity.
Shimano reels are generally more expensive, but they are known for their high quality and performance.
If you are looking for a reel that will last beyond the initial investment, Shimano may be worth the additional cost. Remember that investing in a higher-quality reel now can save you money in the long run.
Weight and Sizes
Both Okuma and Shimano offer a variety of reel sizes and weights to accommodate different fishing needs.
Typically, heavier and larger reels provide more durability and can handle larger fish, while lighter and smaller reels are more suitable for finesse fishing and trout angling.
Okuma reels are known for being lightweight and easy to handle, especially for beginners.
In contrast, Shimano has a broader range of offerings, including both lightweight and heavy-duty reels suitable for experienced anglers' diverse preferences.
When it comes to weight and size, Shimano and Okuma both have their distinct advantages.
It is crucial to identify your specific needs and preferences when choosing between these two brands.
Keep in mind that there is no one-size-fits-all answer, and the best reel for you will depend on your individual requirements, fishing style, and personal preferences.
We are reader-funded and objective. To keep afloat, sometimes we earn a small commission when you click a link. Castandkayak.com is also a participant in the Amazon Services LLC Associates Program, an affiliate advertising program designed to provide a means for sites to earn advertising fees by advertising and linking to products on Amazon.com. Amazon and the Amazon logo are trademarks of Amazon.com, Inc, or its affiliates.
5 Must-know Surf Fishing 'Secrets' that lead to more hook-ups.
Free Guide to catch more fish – without spending money on gear!
Simple habits to hook up more fish
Quick and easy to implement on your next fishing trip
Don't pay any more money on gear.
Just ENTER YOUR EMAIL ADDRESS BELOW, and get the FREE resource, NOW!